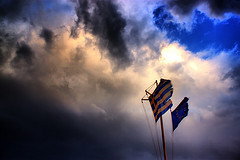 Greek PM Alexis Tsipras has hinted that he is almost close to creating a compromise deal with creditors, aiming to not default on its debts and keep its place in the eurozone.

Tsipras has been held up in talks with EU officials in Brussels last weekend. The PM has come to the conclusion that debt relief will be asked in exchange for concessions demanded by the Troika of creditors including the IMF, European commission and European Central Bank. Currently, Greece's bailout accord will end officially on 30 June with the troika setting a meeting of Eurogroup finance ministers on Thursday as the cut-off date for an agreement to be sealed.

The deal would release more than €7bn (£5bn) in bailout funds, but it needs the consent of the creditors to be unlocked. Even while the country is reeling with the highest debt to GDP ratio amongst the EU nations, the hardliners in the country's ruling Syriza party is adamant on laying austerity programs to rest.

The minister of state Nikos Pappas has also asserted that resolution of the issue is imperative to reaching an agreement at a political level. "Our mission is Greece's decisive exit from crisis and the avoidance of adventures for all of Europe," Pappas told the Syriza party newspaper Avgi before flying to Brussels. "Greece has views, proposals, the determination, to work with [its] partners to get out of this destructive austerity with a viable debt and social cohesion. What is needed is a political solution," he insisted.

Last month Tsipras scurried to put together a proposal in an attempt to secure a deal over its debts from its creditors while also ensuring that the deal does not put much of Athens' interests through the window. He emphasized that plan did include "concessions that will be difficult". After the submission, Tsipras met the European Commission President Jean-Claude Juncker in Brussels. The other two creditors, International Monetary Fund and the European Central Bank already discussed the proposal within themselves. The IMF chief Christine Lagarde herself was present at the closely-guarded talks to streamline the proposal by Athens.