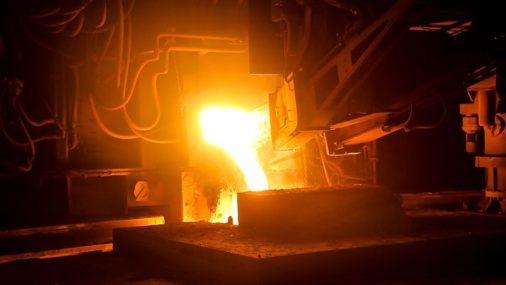 Companies Wuhan Iron and Steel and Baosteel based in Shanghai announced plans for "strategic restructuring" in two different statements. Above that, trading of their shares will be suspended starting from tomorrow.

The final restructuring plan, however, must obtain approval of the supervisory authorities, the statement said.

Baosteel is China's largest steel producer, and is the 5th largest in the world. Last year, the company's total steel production amounted to 36.11 million tons.

Wuhan Iron and Steel is the sixth-largest steel company in China. Last year, the company announced that its production capacity was 26 million tons of steel.

About 100 companies - steelmakers in China have received the greatest loss in 2015 due to falling prices and demand for steel products.

At the same time, it became known that the US International Trade Commission on June 24 issued a final decision to impose anti-dumping and anti-subsidy US duties on stainless steel products imported from China, India, Italy and the Republic of Korea.

According to the decision adopted in May by the US Department of Commerce, manufacturers from China hinterland will be subject to anti-dumping duty at the rate of 209.97%, and anti-subsidy duties in the amount of 39.05% to 241.07%.

Meanwhile, profit of China's major industrial enterprises with annual income in excess of $ 3.1 million increased by 6.4% compared with the same period last year, and amounted to 2.38 trillion yuan ($ 356 billion) in January-May this year, said the Chinese State Statistical control on Monday.

Annual growth remained at around 6.4-6.5%, as well as on the results of January-April, whereas the I quarter of 2016 showed an increase of 7.4%.

"Since the beginning of this year, profits of China's industrial enterprises have been growing steadily, while their main occupation is the main source of profits for companies", - the agency's report says. The highest growth has been observed among the producers of coal, steel and non-ferrous metals.

This reduction in recorded profits in the chemical and petrochemical industries, as well as among electronics manufacturers.

In May, the profit of enterprises amounted to 537.22 billion yuan ($ 80.33 billion), an increase in annual terms by 3.7%.

Profits of China's major industrial enterprises by the end of 2015 decreased by 2.3% to 6.36 trillion yuan ($ 966.7 billion). For large industrial enterprises, according to the GSM standard, are companies with annual revenues from the main activity of more than 20 billion yuan ($ 3.1 million).