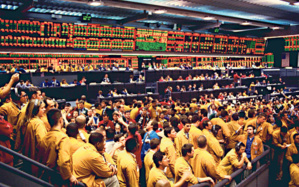 While the Federal Reserve has been intent on increasing interest rates for this year, Wall Street has been bleak by slashing its forecasts for bond yields.

The recent sell-off erased about $1.2 trillion worth of assets from the global bond market, has now been followed by estimates regarding treasuries going down according to the fixed-income market experts.
A game of chicken is now in play, in which analysts and investors are betting on the Fed not lifting rates as of now, for fear of weakening the economy, even though last week's optimistic jobs report showed otherwise. The stakes are higher for global markets that are exposed, to much higher losses due to a metric called duration.

Chris Low, the chief economist at FTN Financial, has predicted that the U.S will start trading on fundamentals again as soon as the financial state betters in the country.

Among the few who had correctly estimated past year's rally in Treasuries, Chris Low, has now cut down his yield forecast for ten-year notes from 2.5% to 2.1%, for this year-end. They ended at 2.41 percent on Friday. The yield was 2.39 percent as of 10:04 a.m. Monday in London.

Wall Street predictions for the Treasuries has been borderline bullish with constant low predictions. A Bloomberg survey projected Wall Street's yield estimates at a median of 2.5% for this year versus 3.01% from December of last year.

These projections, however, carry the risk of being overrun by money managers, who might get tired of the bull market of bonds.
Global Consequences
The effects of Treasuries fluctuations has global consequences for consumers, businesses and governments alike, as the Treasuries serves as a benchmark for borrowing costs on trillions of dollars of debt worldwide. Bonds have plunged worldwide last month, causing yields to fall drastically and also deflation worries skyrocketing.

Since April, U.S 10-year notes have yielded half a percentage more in their value. The sell-off sped things along, especially as hiring grew, strengthening the Fed's case, for increasing rates.
Janet Yellen, Fed Chair, said in May that she hopes to raise borrowing costs if the economy follows her forecasts.

Bonds in tight spot
Market conditions indicate bonds could fall further, according to Christopher Sullivan, the manager of $2.4 billion as CIO at United Nations Federal Credit Union.
The potential for losses is now higher due to the duration levels for $50 trillion of debt tracked by Barclays. If Treasuries yield rose to 3% by the end of the year then investors would incur losses of 3.6%.
Diminishing Expectations
The labor market has been showing signs of improvement but retail sales and household spending have fallen short of the mark estimated by experts. Regardless of when exactly the first increase in rates comes, the market isn't expecting rates exceeding 1.25% before the end of 2016, versus the Fed's own projection of 1.875%. For many bond investors, these diminished rate projections are indicative of how little inflation the economy has been able to promote during its expansion.

Flip-Flop
Going by the Fed's projections, inflation reached just 0.1% in April since last year, even though goals were set at reaching 2%. These situations have caused lack of price pressure to prompt investors to pour into long-term debt, which has caused turmoil in the markets as bonds plunged.
According to Cathy Roy, the CIO for Calvert Investments, "Every day you come in and there's been a complete flip-flop on the consensus view on where interest rates are going". Roy also stated, "We're staying the course with our long-term outlook of lower rates for longer and then trying to take advantage of this volatility."
References
:
http://www.bloomberg.com/news/articles/2015-06-07/bond-market-game-of-chicken-with-fed-is-more-dangerous-than-ever