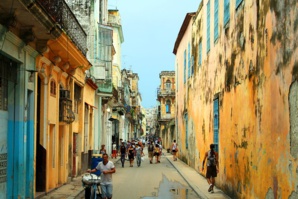 Official announcement of the US State Department can be done as early as Wednesday, the newspaper notes.
President Barack Obama must approve appropriate recommendations to the State Department, after which a decision will go to Congress: 45 days for consideration will be at the disposal of the legislators.
Official announcement of the US State Department can be done as early as Wednesday, a spokesman said.
Cuba requires the exclusion of the "black" list as one of the conditions for the full restoration of diplomatic relations.
United States stated that the issue of terrorism and the mutual opening of embassies are not connected with each other and should be discussed separately.
Meanwhile, the Cuban government expects good results from the future work of entrepreneurs from the US on the island, but does not intend to provide them with trade preferences, said on Monday the Cuban Minister of Foreign Trade and Investment Rodrigo Malmierca.
Moreover, he criticized the actions of the United States President Barack Obama to restore relations between the two countries, calling them "incomplete and inadequate."
In Rodrigo Malmierca's opinion, announced in an interview with state-run newspaper «Granma», yet the steps taken by the US government are not sufficient to change the nature of unilateral action (embargo) of the United States against Cuba.
At the same time, the Cuban minister acknowledged that the direction of the relations of the United States and Cuba is correct.
March 24, the US lifted sanctions against a number of companies, vessels and individuals in connection with Cuba, reported the US Treasury Department.
Among those who was derived from the sanctions list - 49 names and titles, including 14 ships and six individuals, the rest are companies, mainly specified on trade and tourism.
Ships and companies for the most part are registered in Panama, and individuals are citizens of this country, except for one Czech citizen.
The US Treasury has not given any explanation in relation to changes in the list of sanctions.
US and Cuba announced in December last year on measures to improve bilateral relations.
However, the trade embargo and other sanctions of the US against Cuba still remain in effect.
US President Barack Obama and Cuban leader Raul Castro will meet during the "Summit of the Americas" in Panama this week, said Assistant Secretary of State Roberta Jacobson.
- They will have a chat with Castro, but I do not know in what format it will happen - said Jacobson, speaking at the Brookings Metropolitan Institute.
According to her, Panamanian President Juan Carlos Varela is responsible for the exact agenda.
Jacobson, who is the chief negotiator on the US side in matters relating to Cuba, recalled that Obama and Castro spoke on the phone on December 17 last year when Washington and Havana announced the beginning of the course to the warming of relations.
According to her, "since that, talks at other levels have been repeatedly held."

source:
sputniknews