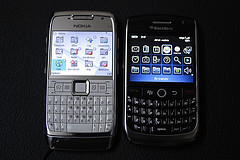 Nokia HERE Maps, which has been put for sale from the last month, has got a new bidder in Uber.

The rideshare app service company is planning to transition into a logistics company and has taken a decision to move away from its dependency on Google Maps with the acquisition. Uber is mulling an investment of as much as $3 billion for the Maps. The Nokia Here Maps are still the inbuilt navigation app in the Windows phones.

Besides Uber, a consortium of German automakers, including BMW, Audi and Mercedes-Benz as well as Chinese Search engine Baidu have bid for the Maps. Meanwhile, Nokia is expected to announce the sale of its mapping unit by the end of May.

Nokia's mapping business holds more than an 80 percent global market share for built-in car navigation systems. The company routinely updates its maps in growing and versatile urban cities spending around hundreds of million dollars.

Pitched as the main competitor for Google Maps, The Nokia HERE maps also had bidders of the liked of Facebook and Microsoft. The world's automakers and tech giants like Google have unveiled a series of driverless car projects that rely heavily on up-to-date road data. Companies like Amazon and FedEx also use mapping information to run their global logistics operations. And tech start-ups, including Uber and Airbnb, the vacation-rental website, have incorporated digital maps into the heart of their businesses.

Based in berlin, Here Maps has about 6000 employees worldwide to maintain and update digital maps and connected-car services with almost three million daily adjustments. The unit reported revenue of $1.1 billion.

The mapping tool could help Uber to maintain its services like Uber Pool. In addition to its heavy reliance on Google's Maps, Uber relies on data from Apple and other companies' mapping initiatives, as well as its own online information.

Uber, whose backers include Google's venture capital arm, has taken steps in recent months to hedge against its heavy reliance on the search giant. This year, for example, the company unveiled the Uber Advanced Technologies Center that, in partnership with Carnegie Mellon University, is working on mapping and autonomous vehicle technology.

And in March, Uber acquired deCarta, an almost decade-old mapping software company based in San Jose, Calif., to bolster its mapping efforts. The company also has hired a number of mapping software engineers in recent months, according to two people familiar with Uber's hiring efforts.
The company's plans, however, may still be outflanked by the German automakers, which also view Nokia's mapping business as central to their future.

Mercedes and other automakers already are testing so-called autonomous vehicles that rely on Here's technology to guide cars around city streets with limited intervention from drivers. They are reluctant to become overly dependent on Google's Maps, which offers similar services, particularly because Google is working on autonomous vehicles of its own.

As part of its bid, the German consortium wants to give others access to Nokia's mapping service, under a licensing agreement, so that the business can maintain its global reach and remain the primary competitor to Google Maps, according to a person with knowledge of the matter.
"Mapping data is an important long-term asset for the auto industry," said Jeremy Carlson, an analyst at IHS Automotive, in Los Angeles. "It makes sense that they would want to protect it.