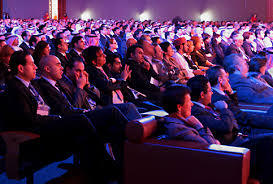 For corporates and organizations looking for an event management company to organize their CSRs or any other employee volunteer program, look no further than Realized Worth. Co-founded by
Chris Jarvis
, with
Realized Worth
on your side you will be able to carve out interesting spaces for your corporate philanthropies.
Chris has a very charming personality and his quick, yet detailed, on site thinking has ensured the success of many an employee volunteering programs. His specialties lies not just in the thorough understanding of the individual components that make the machinery of a corporate event a success. Chris takes in a little more than just that, he brings in a deep understanding of human psychology – a knowledge of how people tend to operate.
In a business which has its shares of dreamers, Chris's approach caters to the need of understanding human behavioral patterns, the need for appreciating their humanity, which is typically disregarded and misunderstood in most planned events.
For example, when you work with Realized Worth, it effectively delegates responsibility to employees, it gives them a sense of participation, a sense of belonging. This increase in the participation level of the employees is a key factor in Realized Worth's methodology.
Before delegating responsibility, Realized Worth locates employees who are passionate about their work and who typically volunteer for extra-curricular activities in their own individual lives. It looks for employees who can generate excitement, ignite passion about the particular event.
If however, despite all of your giving activities and careful planning, your participation numbers are still not looking up, Realized Worth will advise you to first get your orientation in place, it will study as to how you are getting your employees into this program in the first place. What is clear is that there is no standard methodology that can be straight jacketed for all social events. Every event is unique and comes with its own sets of requirements.
Chris says, in order to think big, you need to think small and delegate responsibility to responsible leaders. You can identify segment-wise leaders based on the components of your team. You could create multiple teams and assign them a team leader. It is the team leader's task to engage more volunteers and ensure that the activities are well planned and organized. These team leaders will ensure that everything goes smoothly as per plan. Since this is a key area, team leaders have to be selected with lots of care.
In order to help you identify the characteristics of a team leader, Realized Worth has gone out and has provided you with some
cutting edge insights
. The following are the characteristics of the person who will most likely act as a team leader:
Has volunteered in the past for a significant amount of time.
Who has an volunteering attitude: who thinks doing so is a way of life.
Has some personal reason to volunteer wherein it's not so much about volunteering to bring happiness to others, its more about doing it for themselves, for it is what they believe it.
Understand the need for the activity and are mature enough to not be pushy about it.
Has contacts with similar activities and mobilizes people and resources towards that end.
Is convinced about the event and is resourceful enough to engage people and resources towards it.
Once you have a team leader in place, you will need to provide him additional training and offer him consistent support. What you should be abundantly clear about it that any kind of event never runs as per plan, it needs constant guidance, maintenance and grooming. They don't have an auto pilot.
Select your employees and make them team leaders so as to lead. Their successful will ensure the engagement of your employees, will boost their level of enthusiasm and will ultimately make the event a huge success.
References:
http://www.forbes.com/sites/causeintegration/2014/09/16/theres-a-new-sheriff-in-town-your-employees/