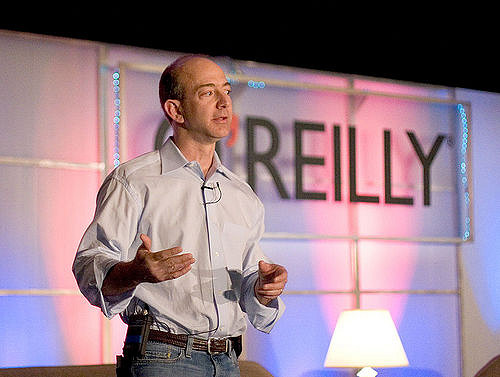 etech
Below are the 10 biggest philanthropists in 2018.

1. Jeff and MacKenzie Bezos

Amount: $ 2 billion

Needs: social assistance

Jeff Bezos is an American entrepreneur, head and founder of the Internet company Amazon.com, the founder and owner of the aerospace company Blue Origin and the owner of The Washington Post. In 2018, he became the richest man according to Forbes, taking the first line with a capital of $ 135.6 billion.

2. Michael Bloomberg

Amount: $ 767 million

Needs: various

Michael Bloomberg is an entrepreneur and the 108th mayor of New York. One of the richest people in the world according to Forbes, he was the 11th with a capital of $ 50.4 billion in 2018. He is the founder and owner of the Bloomberg news agency.

3. Pierre and Pam Omidyar

Amount: $ 392 million

Needs: various

Pierre Omidyar is a programmer, entrepreneur, manager and philanthropist; founder and chairman of the Board eBay Director; a billionaire since eBay's IPO in 1998. Since 2004, together with his wife Pamela, he founded a philanthropic investment company, Omidyar Network, as well as a charity foundation Humanity United, which fights against the slave trade.

4. Stephen Schwarzman

Amount: $ 390 million

Needs: higher education

Stephen Schwarzman is an American businessman and investor. Head of investment company Blackstone Group. Schwartzman's capital, according to Forbes, is $ 7.7 billion.

5. Steve and Connie Ballmer

Amount: $ 295 million

Needs: various

Steve Ballmer is a billionaire, CEO of Microsoft from January 2000 to February 2014. Ballmer became the first billionaire in the world owing his wealth to options received from his employer, Microsoft, in which he was neither the founder nor a relative of the founder. On May 29, 2014, he made a proposal to buy out the basketball club NBA Los Angeles Clippers for $ 2 billion. On August 12, 2014, he became its official owner.

6. Paul Allen

Amount: $ 261,432,500

Needs: research in the field of artificial intelligence, medical research

Paul Allen is an American entrepreneur, co-founder of Microsoft Corporation, which he and his school friend Bill Gates founded in 1975. Allen's capital in 2018 was $ 20.3 billion.

7. Mark Zuckerberg and Priscilla Chan

Amount: $ 213,598,215

Needs: various

Mark Zuckerberg is an American programmer, entrepreneur in the field of Internet technology, the dollar billionaire. In December 2015, Zuckerberg announced that he would donate almost all of his fortune to charity. "We'll give away 99% of our Facebook shares — now it's about $ 45 billion — over our lives to join many others to improve this world for the next generation," the billionaire wrote on his Facebook page.

8. John and Laura Arnold

Amount: $ 204.3 million

Needs: various

John Arnold is head of the hedge fund Centaurus Energy. In 2007, his fortune for the first time exceeded $ 1 billion, which made Arnold the youngest American billionaire in the Forbes magazine list and put him in 317th place in the list of 400 richest Americans. Like many other successful people, Arnold seeks to avoid excessive publicity.

Together with his wife Laura, a graduate of the Yale Law School, who worked at the law firm of the Wachtell Lipton power station and opened a company for energy research, they are very well-known collectors of modern art. They donated $ 700 million to a family fund that subsidizes opening of schools run by an organization named Kipp Academy, in which board Arnold serves.

9. Jay Alix

Amount: $ 200 million

Needs: higher education

Jay Alix is a corporate bankruptcy expert who made his fortune working in the field of consulting. In 2018, he donated $ 200 million to higher education, which made him one of the largest philanthropists in the world.

10. Edward Bass

Amount: $ 160 million

Needs: higher education

Edward Bass is a well-known American billionaire, entrepreneur, heir to a major family industrial production, Bass Enterprises. Edward's net worth is estimated at about $ 1.2 billion (according to Forbes magazine, which placed the billionaire on one of the places in the ranking of the richest people on the planet).