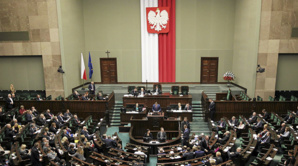 Poland is ruled by a "conservative government", whereby the government has come up with a new bill that will transform the public broadcasters business across the country. Likewise, the latter will be under the government's power for appointing or dismissing "their media executives" as it pleases the government.
In the process the "national media council" of Poland will be attributed with more power. The said council body is closely related to "ruling Law and Justice party". The introduction of the new bill has allowed the national media council to exercise "significantly more influence" on the operational aspects of the "television broadcaster TVP and Polish Radio", confirmed the BBC.
Moreover, as per the reports of the "European Broadcasting Union" the TVP reaches out to more than ninety percent of the population in Poland on a weekly basis. While, PAP, a "Polish press agency", reported that the "Sejm" or the "lower house of parliament" in Poland has "already approved the media".
According to the time.com:
"Press freedom bodies have already panned the move. The European Federation of Journalists, Reporters Without Borders and EBU released a statement on Wednesday criticizing the bill".
The above mentioned step had followed the President's signing onto "a controversial amendment to the functions of the country's top constitutional court". The critics say that the bill "weakens the court's ability to give checks and balances to the ruling party".
References:
http://time.com/