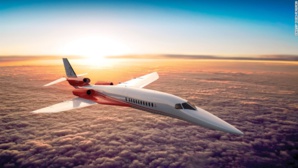 (c) CNN
A message appeared on the pages of the portal Business Insider. The publication writes that this aircraft will be able to make a round trip from London to New York in just one hour. For comparison, the Airbus A330 takes up to eight hours on the same route.

To date, the record flight time London - New York is 3.5 hours. Precisely this amount of time on that route was spent by the Mach 2 Concorde. Airbus experts believe that a new hypersonic aircraft can reach from Paris to San Francisco or Tokyo to Los Angeles in just three hours, writes Business Insder.

As follows from the patent application, the device is an air vehicle comprising a fuselage, a delta wing on each side of the fuselage and propulsion system which can cause the device to move. Thanks to the three different types of motor, the aircraft can gain a cruising speed of more than 3000 m / h, which is slightly less than 5000 km / h.

The authors of the patent claim that the new hypersonic Airbus will not create "sonic booms" and "noise pollution" when breaking the sound barrier - in contrast to the Concorde, which in the 1970s had a lot of complaints because of this. The supersonic airliner will rise vertically into the air from runway, just like the space shuttle. At the time, phase motors, unused in a given flight, will be able to fold (like in modern airplanes chassis) to improve the aerodynamic qualities.

Airbus experts also note that the hypersonic jet can be used in both the civilian and military aviation. The aircraft is suggested to be used as a private transport or transport for small groups of passengers (up to 20 people) for purposes of civil aviation.

As part of military aircraft, such a machine can be used for ultra-fast transfer of small combat units and reconnaissance (like SR71 Blackbird).

Earlier it was reported that the Airbus Group SE will participate in the project to create the most extensive network of satellite internet. The joint venture was created player OneWeb Ltd., formerly known as WorldVu. His goal - to provide global access to broadband satellite internet from any point on Earth already by 2019.

The JV received funding from companies, including Qualcomm Inc., Virgin Group and Airbus Group. Together, they are planning to build a total of 900 satellites, with not less than 640 at any time in orbit. The total amount of investment in the project will be about $ 500 million.