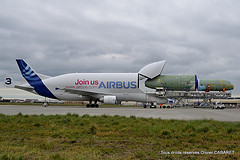 Satellite Internet company OneWeb is partnering with European aerospace major Airbus Defense and Space in the design and production of a fleet of 900 small internet satellites.

The move will result in the world's largest satellite constellation which could bring Internet access to the underserved, cutting down digital divide. According to the deal announced in the sidelines of the Paris Airshow, a set of 600 satellites will be launched initially.

According to the initial specs from OneWeb, each satellite is expected to be about 150kg is size, and OneWeb was looking for a price per unit of less than half a million dollars. Airbus has announced that it would make around 10 such satellites at its Toulouse manufacturing facility before shifting it to a dedicated plant in the United States. The company also announced that there will be no launch before 2018. Thales Alenia Space, Space Systems/Loral, Lockheed Martin Space Systems and OHB of Germany were in line for this proposal which was later awarded to Airbus.

Another investor in this massive project would be Richard Branson's Virgin Group. The company may help in providing technical expertise in the making of rockets for the launch of satellites into the space. Sir Branson himself is on the board of OneWeb and his team is currently developing a satellite launch system for his space tourism project.

Speaking on the partnership, Airbus head of space systems François Auque noted: "This partnership is a fantastic new chapter in our space story. Teaming with OneWeb with a requirement to produce several small satellites each day has inspired us to develop innovative designs and processes that will dramatically lower the cost in large volumes for high performance space applications." Combining the Airbus' long history of building and launching space systems with the innovation and mass manufacturing techniques gives the team an advantage in delivering the OneWeb system, according to Airbus officials.

British Virgin Islands-based OneWeb is led by American entrepreneur and former Google executive Greg Wyler. He started conceptualizing OneWeb based on a 12-spacecraft constellation which provides "backhaul" telecommunications services. The current plan is to build 20 planes of low-orbiting satellites connecting to small user terminals on the ground to link computers as well as phones. Industry players and analysts are consistently tracking this ambitious project as past experimentations by other companies were met with dejections. Teledesic and Skybridge were two of the many well-financed companies who aimed to deliver high-speed broadband to the masses only to be met with severe technical setbacks.