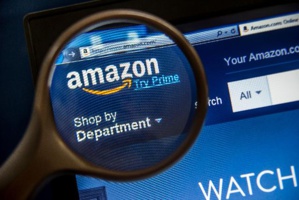 With the world's largest online retailer posting a surprise quarterly profit, Amazon's shares surged more than 17% pushing its market value above that of Walmart.
Things seem to be going Amazon's way: its forecasts for the third quarter was bullish, comments forthcoming from its executives on its Prime delivery service were upbeat and its cloud computing service has seen rapid growth. These were just a couple of things that lit up its results on Wall Street, for they were exactly the kind of thing, Wall Street was looking for.
Initially investors were pretty worried that the Seattle based Amazon's ventures may not actually pay off, although in its last quarter it reported profits.
"My quick take is that management has a lot of discretion over spending and appears to understand that investors prefer profits to losses. If they keep delivering profits, the stock should work." said Michael Pachter, an analyst at Wedbush Securities. "
Trading in Amazon's shares had been a little lackluster throughout much of the last year. In the previous years, Amazon's shares traded as low as $284 in October, which is virtually half to today's price.
Amazon's Prime, which sells for $99 a year giving exclusive access to music, movies, e-books, etc., is also contributing to its profitability with newer subscribers coming in at rates "higher than we've ever seen," says Brian Olsavsky, Amazon's Chief Financial Officer.
Interestingly membership to Prime is growing faster outside the United States than in it. Also its one-day sale event called "Prime Day," is contributing nicely to its profit margins. Amazon however declined to provide membership figures.
"Growth has been fueled in large part by Prime growth and also (item) selection growth so it's been a huge driver both in North America and international segments," said Olsavsky.
Amazon had reported a profit of $92 million in the second quarter of this year compared to a loss of $126 million in the previous year. It has seen its revenues increase by 19.9% from the previous year to a whopping $23.19 billion.
"It looks like they beat across every major revenue line. That, along with the surprise profit beat, is icing on the cake, so to speak," said Colin Sebastian, an analyst at Robert W. Baird & Co.
Its sales in North America rose by 25.5% to $13.8 billion from the previous year, this is thanks to increased demands in general merchandise and in electronic goods.
However, its cloud computing division has contributed the lion's share of its profits. Revenue from Amazon's Web Services have soared by 81.5% to $1.82 billion, which amounts to nearly 8% of its quarterly revenue.
Revenue from the cloud computing division, Amazon Web Services (AWS), soared 81.5 percent to $1.82 billion, accounting for nearly 8 percent of the quarter's revenue. It has indeed been its core engine of growth and Wall Street with AWS as an important source of stable profits.
After the announcement of this news, shares of Amazon, which set up shop 20 years ago as an online bookstore, jumped to $566.02. If the price of its shares are maintained at this level, its total market value would easily exceed that of Walmart's $233.52 billion.
Amazon Prime Membership is also facing increasing competition from the likes of
Jet.com
, which offers annual membership at half the price of Prime, while offering customers discount on 10 million products.
Jet has so far priced its products very aggressively listing its products alongside Amazon's. Jet has so far raised $220 million from well-known venture capitalist firms. Amazon has declined to comment on the heat it's product faces from the likes of Jet.
References:
http://www.reuters.com/article/2015/07/24/us-amazon-com-results-idUSKCN0PX2HX20150724