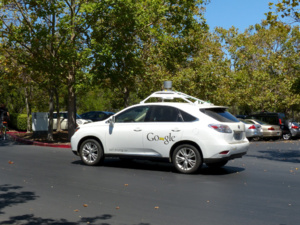 Source: flickr.com; (CC BY 2.0)
According to Reuters information nearly forty percent of adult drivers in America choose to buy "self-driving cars in the future" as it gives them the opportunity to "snack, chat on their phone or catch up on email" while the car to manoeuvre through the roads by itself, revealed Adobe Analytics' survey.
The said survey involved "1,040 American adults" over eighteen years old. The results of the review revealed that drivers are more open to self-driving vehicles which will enable them to extend their "homes and offices" in the car.
According to experts in the industry, there are still quite many years to go before the auto industry matures to handle "all aspects of driving in most circumstances with no human intervention". Likewise, global auto manufacturers as well as tech giants have invested "billions of dollars" to develop autonomous driving mechanisms.
Companies like General Motors, Uber Technologies, and Apple have taken the lead in investing for autonomous vehicles, while Hyundai Motor Group, the South Korea based auto maker, too have joined the group last month as it presented its bold investment plans for "autonomous vehicles and other related systems".
The race to reach the number one spot for autonomous industry has already begun. Likewise, Waymo of Alphabet and GM Cruise in association with SoftBank Group's "$100 billion Vision Fund" have already tested for over "25,000 kilometers of hands-free rides last year", stated a government agency report of California in 2018.
Furthermore, Lyft Inc has also shown interest in the same while BMW collaborated with Tencent Holdings for launching a computing centre in China. Reuters also reported:
"Drivers also seem primed for the revolution. Many drivers already factor whether a car has self-driving features into their buying decisions, the report by Adobe said, with more interest in connected cars than ever before, with support growing by over 35% in the last year".
Here is link for an interactive graphic about "top activity picks while in a self-driving car" from Reuters:
https://fingfx.thomsonreuters.com/gfx/editorcharts/USA-SELFDRIVINGCARS/0H001QXEQ925/index.html
References:
reuters.com