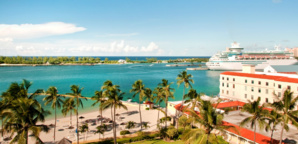 When it comes to the popularity of tourist destinations worldwide, the Bahamas located just 50 miles from Florida, is a prime vacation spot for the glob trotting tourist. Being a leading tourist destination, its gross domestic product (GDP) value is $8 billion, roughly twice that of Barbados, another Caribbean nation.
Even in this tiny island, there is a growing awareness and sense of responsibility towards taking smart decision vis-a-vis the twin hazards of Climate Change and Global Warming.
"Reducing our various countries' dependence on fossil fuels, ramping up renewable energy, building more climate change resilience is incredibly important for us," said Bahamas's Environmental Minister Kenred M.A. Dorsett.
Although their popular slogan to visitors goes "imagine a world where you can't tell where dreams begin and reality ends," for the Ministry of Environment there is no dreaming. They have woken up to the fact that their reality could go in to a toss unless they invest in renewable energy.
In 2014, in a move that left no doubt as to its intentions, the Bahamas joined the International Renewable Energy Agency (IRENA), in order to address and find solutions for its renewable energy scenario. The previous year, 2013, saw the launch of Bahama's first energy policy wherein it has firmly committed to produce at least 30% of its energy requirements from renewable energy sources.
An Inter-Governmental organisation along with IRENA is helping Bahama's government in an advisory role for to draft and implement its policies regarding renewable energy. The two will act as a platform for resources, technologies, finance and as a centre of excellence for the Bahamas.
"Currently, we are debating in Parliament an amendment to the Electricity Act to make provision for grid tie connection, therefore making net metering a reality using solar and wind technology. Our involvement in IRENA is important because the world over is concerned with standardisation of technology to ensure that our citizens are not taken advantage of in terms of the technology we import as we advance the renewable energy sector," said Mr. Kenred M.A. Dorsett, the Minister of Environment and Housing.
It was in 2013 that the Bahamas woke up to the reality of their renewable energy situation. The country's head of the Renewable Energy Association, Mr. Guilden Gilbert had then decried that whatever little was being done was insignificant to Bahama's renewable energy requirements. In a report that was released by Castalia, a renewable energy index was created for the islands in the Caribbeans vis-à-vis investments in renewable energy technologies. Out of 27 countries, Bahamas ranked 26.
Since then, the Government has not only gone about creating an Energy Task Force but a "National Energy Policy & Grid Tie In Framework" so as to reduce the high cost of electricity that was prevalent at that time. At the same time, it has also eliminated import duties for LED appliances and solar panels to ensure that its citizens could effectively afford these energy saving technologies.
Currently, IRENA is already working on several projects in the Caribbean and has agreed to lend $15 million dollars to setup a geothermal power plant which is set to be commissioned by 2018.
With Bahamas receiving the latest in advanced renewable energy technologies, its Environment Minister, Mr. Dorsett, looks pretty happy.
References:
http://www.ipsnews.net/2015/01/the-bahamas-new-motto-sand-surf-and-solar/