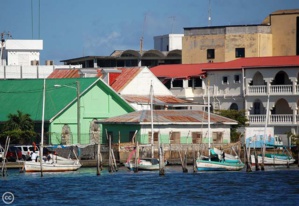 Almost 203,000 Belizeans live in on the coast in cities and coastal villages such as Dangriga, Corozal, Santeneja, Placencia, Hopkins, Seine Bight and Sittee River.

With the subject of climate change on everyone's lips now a days, but for the people in these communities, "Climate change is not an environmental issue. Climate change is a development issue," opines Enos Esikuri, senior environmental specialist and World Bank representative

Enos Esikuri, is of the view that, when discussing matters vis-a-vis Climate Change, focusing on the environment will result in "losing the audience", especially for Belizeans, because they make a living from tourism and from the sea. Belize's economy, he explains, has evolved from an agricultural one to a more mature service-based one with tourism taking center spot. But, Belize's marine resources such as the rivers and the seas play a critical role in this service-based economic model. These have to be taken into consideration when talking about climate change.

Further, since marine ecology is a key component of their economic model, it would be safe to conclude that intensification of the weather system and its effect on Belize's fragile reefs, coasts, and coastal communities will have a major impact on their economic model. So when discussing matters regarding Climate Change, the talk has to harmonize and bring along particular peculiarities which are key components of the Belizean economic model, then only the discussion becomes cohesive.

Case in point, fishing accounts for almost 15% of its $3billion GDP. Belize has 4500 licensed fishermen and almost 18,000 Belizeans are directly dependent on this industry for their livelihood. Tourism on the other hand, accounts for almost 25% of their GDP and a significant population living in the coast earn their living from it. Given this scenarios, the barrier reef and its inhabitants are critical resources for the tourism and fisheries industries, Safeguarding and protecting them will essentially save many livelihoods. Thus, Climate Change has to be scene in the context of saving these livelihoods so as to initiate developmental action from the Belizean government, feels Esikuri.

Keeping this in view, the World Bank Adaptation Fund, has already disbursed $5.53 million dollars towards sustainable development for Belize's Ministry of Fisheries. On its part, Belize too has funneled in $1.78million for this program, which aims to prioritize marine ecosystems and marine conservation and bring about climate adaptation measures so as to strengthen climatic resilience of Belize's Barrier Reef.

To this end Belize has just launched this march, a project called 'The Marine Conservation and Climate Adaption Project' (MCCAP). With its launch, Belize seeks to cement its shift towards efforts made for climate change and boost the impacts of these efforts on its national development.

THE MCCAP has two stated goals: the first being to put in place a system that ensures the continued protection of marine ecology and related protection areas; and the second to ensure that those who lives are dependent on the first criteria are suitably educated on the dangers of climate change and are provided the means for sustaining their lifestyles without further damaging the precious god given natural resources.

The project will invest $560,000 so as to raise awareness of the dangers of climate change, educate the populace about marine conservation and its impact on their day-to-day lives. It will explore and develop and implement strategies for coastal communities so that they are more resilient to the effects of climate change. It will also help these communities to adapt to climate change.

"We are going to look at the marine protected areas, but at the same time we are going to start the livelihood activities, because sometimes if you don't show people the alternatives, then they will not buy in to what you are trying to do. So although it is three different components we decided to put them together simultaneously," says, Sandra Grant, a Project Coordinator.
She goes to say that fishermen and other stakeholder will be taught new strategies on how to reap economic benefits from planting seaweeds, harvesting sea cucumbers and diversify their businesses into value added products.
The project is already seeing early signs of success. A cooperative in Placencia is already growing and exporting dried seaweed. It is now exploring the possibility of harvesting sea cucumbers, the export of which could become a cash cow for its prized medicinal value in China and in Asia.
References:
http://www.ipsnews.net/2015/04/in-belize-climate-change-drives-coastal-management/