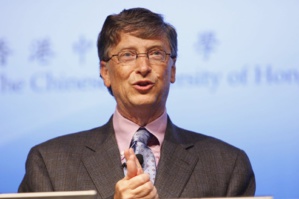 "The conditions of low interest rates on a global scale is very unconventional and cannot last long.
This situation creates problems in terms of leverage and generates "bubbles".
And it will be very difficult to get out of this situation without causing a recession, "- said Bill Gates.
Earlier it was reported that in the current year, the RMB can be included in basket of reserve currencies of International Monetary Fund, about what now the Chinese authorities and IMF officials are negotiating.
The Vice-President of the People's Bank of China Yi Gang has said that the inclusion of the yuan in the "Special Drawing Rights» SDR would increase its value in the current economic situation in the world.
The Obama administration does not agree with the decision of the IMF, having the opinion that the yuan is "significantly undervalued."
But the IMF's actions undermine the efforts of the US administration to build pressure on China.
"This will cut the ground from under the feet of American critics of China's currency policy," - said Eswar Prasad, an economist at Cornell University and a former official of China in the IMF.
However, changes in the world economic redundant system, as they say, is obvious.
Beijing occupies a strong position in the global financial system, for example, in recent months, China has received strong support for its initiative to establish the Asian Bank of infrastructure investments, which will compete with the World Bank and the IMF.
Yuan is still pegged to the dollar, and as the US currency strengthened against most other major currencies, it helped to push up the value of the yuan.
Adjusted for inflation, the value of currencies increased by more than 10% last year.
However, against the backdrop of a slowdown in China's GDP, some economists do not rule out that China will make efforts to devaluation of the yuan to boost exports and competitiveness of domestic producers.
"There are very high chances of the yuan to be chosen as a reserve currency on the basis of the next review of the IMF. Yuan may even bypass the yen this year", - says economist DBS Group Hokdinsg Nathan Zhou.

The Chinese economy is one of the largest in the world, second only to the United States. In addition, China is the largest exporter of the world, allowing the yuan to overtake the euro documentary operations and take the second place after the dollar back in 2013.

In a statement, the People's Bank of China, dated January 20, said that the Central Bank will continue to promote the yuan in the international level. According to DBS Securities, now more than 50% of the central banks of the world reserves are held in renminbi.

source: cnbc