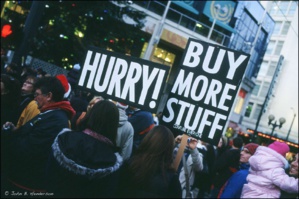 John Henderson
According to the research company Footfall, the number of those who have actually visited British shops on "Black Friday" declined by 4%.

As noted by Reuters, the last year sale was marked by long lines and scuffles in the UK. The agency says that the last year experience and bad weather led to the fact that the British prefer online shopping to the "real" stores.

The IMRG expects the people of Britain to spend £ 943 million during "Cyber Monday," which follows the Black Friday. This is 31% more than the year before.

Recall that the Americans made purchases for $ 10.4 billion during the "Black Friday" this year (November, 27), as preliminary assessed by the company ShopperTrak, which tracks the flow of customers in more than 1.2 thousand of large US retailers.

According to ShopperTrak, sales for Thanksgiving Day (November 26) were around $ 1.8 billion. Thus, volume of purchases for the first two days of the Christmas and New Year sales exceeded $ 12 billion and occurred to be lower than last year ($ 13.6 billion).

In addition, the "Black Friday" sales were less than that of China's largest online retailer Alibaba on "Singles Day" (November 11). In 2015, Alibaba's users made purchases of more than $ 14 billion during one day.