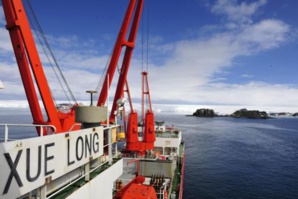 The Snow Dragon's presence in the Antarctic highlighted China's growing interest in the region (photo:dpa)
Despite the fact that Beijing set up its first research base in Antarctica only in 1985, China's attempts to expand its influence on the continent in recent years have intensified, resulting in China being ahead of other nations.
China's movements on the continent is already the most active among the 52 countries that signed the Antarctic Treaty. The country has opened its fourth research station last year, chose the place for the fifth station, and at the moment, China is investing in the construction of the second icebreaker and new planes and helicopters are suitable for landing on ice.
The United States has 6 research stations on the continent, Australia - 3.
The Antarctic Treaty, which was signed in 1959, means that all signatories must ensure that the continent will be open one for peaceful scientific research, as well as the fact that the region shall not be militarized.
In addition, some protocols are intended to protect the Antarctic from overfishing and mining, which is considered the most important resources in the region.
Despite the fact that China has also signed the constraints imposed on its activities by this contract and the individual protocols, the Antarctic observers have noted that Beijing is using its research stations in order to enhance strategic influence in the region, in case commercial drilling would be allowed there in the future.
- It is part of a broader strategy around the world - said Peter Jennings, the director of Australian Strategic Policy Institute. - China's strategy aims to ensure energy and food reserves of the country in the long term.
The ban on drilling for commercial extraction of resources in Antarctica will expire in 2048, when the Protocol on Environmental Protection will not be re-ratified by unanimous decision.
If the term of the agreement expires, Antarctica could become a major new source of hydrocarbons in the world.
It is believed that the region contains about 200 billion barrels of oil.
In addition, the region is the largest repository of fresh water on the planet.
Investments that China is bringing in its operations in the region could lead to the fact that the country will be out of competition and will be able to take advantage of all the resources of the continent after 2048.
- China's activities on the continent like a game of chess. It is very important to have a favorable position in the global game, - says Peyking Guo, professor of China University of Oceanology, in the interview with The Guardian. - We do not know where to start this game, but it's important to get
ready.