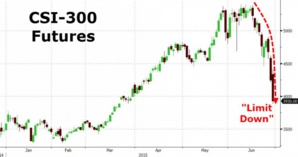 Zerohedge
Thus, the futures on the CSI 300 Index grew by only 7% since the beginning of the year.

Meanwhile, the index HKEX fell by 7.3% - the maximum value since 2011, while the Shanghai Composite has fallen by 7.5%, and a fall in the last three trading sessions was the highest since 1996.

It is known that huge amount of qualified investors, simply put, most ordinary citizens, who often do not even have a higher education participated in the mad growth of the Chinese market. Moreover, they used the borrowed funds for their operations. The question was only when the bubble begins to deflate.

Apparently, the process has already started, and small speculators are once again become a trigger of the fall, as well as the previous growth. They simply have to close their positions.

In all this story, index of technology companies in China ChiNext - a kind of Chinese Nasdaq - is particularly notable. For three days it lost 19%, and from the highs in early June - 33%.

As a result, in just the last three weeks, this indicator has lost exactly half growth for the year.

We add that at the end of the session, the situation in the Chinese market began to straighten out and indexes played most of the losses.

Bank of China held a double softening

The People's Bank of China at the weekend lowered its key interest rate and reserve requirements for some banks following the sharp fall of the Chinese stock market.

The rate on loans for one year decreased by 25 basis points to 4.85%, the deposit rate for the same period - 25 b. n. 2%.

This decrease is the fourth since November.

China's stock market falling for the second consecutive week, on Friday the index of Shanghai Stock Exchange fell more than 7%.