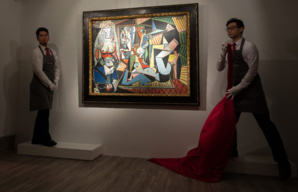 As recalled by the agency Bloomberg, the previous record was set in November, when sales of Impressionist, modern art, post-war and contemporary art totaled $ 2.3 billion. Last May, the auction houses generated $ 2.2 billion, 23% less than the current bid,
which ends on Friday.
- People have a lot of available funds, - noted David Hamad, an art dealer. – Had they arrange five such auctions, all of them were a success.
In order to organize an unprecedented saturation trading week, Christie's posponed their own bids in early May.
Phillips on Thursday also postponed the launch of its last auction, for bidders to be able to get the time for the similar Christie's sale, which had began a half hour before.
On Tuesday night, Christie's auction sold two works of art, the price of each of which exceeded $ 100 million, and broke records in their respective categories, reported The New York Times.
The most expensive painting in the world was the work of Spanish artist Pablo Picasso's The Women of Algiers (Version O
) of 1955.
The buyer paid for it $ 179.4 million, which exceeded the starting price of $ 140 million.
The previous record belonged to the work of Francis Bacon's "Three Studies of Lucian Freud" in 1969.
In November 2013, a co-founder Wynn casino chain Elaine Wynn paid $ 142.4 million for the project.
In less than half an hour was set another record: the Swiss Alberto Giacometti sculpture "Man Pointing" was sold for $ 141.3 million.
As the New York Times noted, Christie's was the first in the history of the auction house, managed to get from customers more than $ 1 billion just in a week. At the same time, the auction house acts as an intermediary between buyer and seller, so its real revenue is unknown.
Also, Kashmir sapphire ring weighing 35 carats sold at auction for $ 7.3 million at Christie's auction in New York, said on Thursday the Associated Press.
Each carat of the sapphire ring sold on Wednesday cost 209,689 dollars to an unnamed winner of the auction, what is a world record.
The gold ring is encrusted with the Kashmir sapphire and diamonds.
Kashmir sapphires are valued more than others for a deep blue color with a purple hue.
Their deposit, discovered in the northwest of the Himalayas in 1881, dwindled to the 1930s.
Christie's is the largest auction house in the world.
Together with its main rival Sotheby's, it controls 90% of the market.