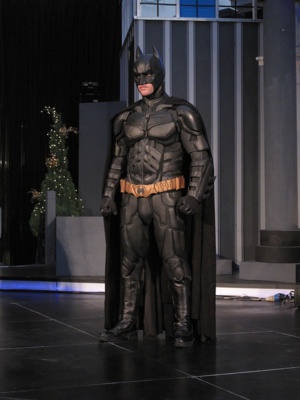 A cosplay suit of Batman has been featured in the list of Guinness World Record as "the most functional gadgets on a cosplay suit". The Gamer's edition of Guinness World Records recounts the story of Batman cosplay suit.
The expert at "special creature effects", Julian Checkley, was behind the creation of the said suit. Checkley "attached" the gadgets in the suit in a concealed manner, whereby the devices for effects include "smoke bombs, a grapnel gun, 'bat tracker' and others".
One of Batman's videogame, called Arkham Origins, is at the base of the cosplay suit's creation. Checkley printed the suit featured in the said game through a 3D printer. Following which, the designs mould was carved out and finally it was casted in a "flexible rubber". In Checkley's words:
"There were many long hours trying devising the gadgets and finding ways to store them on the suit. They are classic gadgets but also some are specific to Batman: Arkham Origins. I am immensely proud of my Guinness World Records title and to be part of the Gamer's Edition is just the next level."
The release of the "Guinness World Records: Gamer's Edition" is scheduled on the 8
th
of September 2016.
References:
http://www.reuters.com/