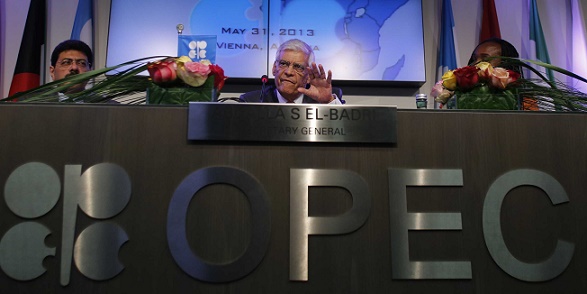 The oil prices declined by about 60% since June 2014 and rolled down again on 19 March 2015 after a highly volatile week. The slide was led by more than expected US crude inventories. Moreover, on 16 March 2015, the crude oil prices slumped 4% and touched the mark of $42.85 a barrel, record lows since 2009. The crude supply glut sparked the dramatic crash of oil from $100 a barrel last summer to below $50 in January 2015.

The sudden crash of oil prices has been the largest story for the year 2014. A combination of factors led to a sharp correction in crude oil prices. While the demand supply mismatch stands out to be the major reason behind the price sink. The OPEC's decision to keep the production levels unchanged also played a vital role in the price movements.

According to monthly oil market report of OPEC, the demand supply conditions are likely to play out in 2015. Global Crude Oil prices once again plummeted following the statement from OPEC that they are left with no options in regard to scaling back oil production as they cannot afford to lose their world market share.

The shale companies in the US are persistently pumping more and more crude oil. Although, there are signals that the oil drilling rigs have significantly decreased in numbers yet there is a lag before the dropping count of rigs actually translates into lower production.

However, Kuwait's oil minister said that the dramatic crash in oil prices would impact nation's revenue and also its fiscal budget for 2015. But within OPEC they don't have any option than to maintain ceiling for oil production. Instead any arrangement from the countries outside OPEC to stimulate oil prices will be welcomed.

Weak worldwide demand and roaring US shale production are two vital factors behind falling oil prices. Moreover, OPEC's reluctance to slash oil output is also a key reason for oil supply glut. OPEC's next meeting is said to be held in June, when the cartel will take decision on its output policy.

OPEC believes that the oil oversupply of 1.5 million barrels a day will get faded with pick up of demand and slowdown in the US oil production growth. However, if the US oil producers proved themselves tougher than OPEC's expectations, the oversupply could continue and grow if Iran's nuclear agreement boosts Tehran's oil exports.

International Energy Agency expects that the US crude stocks are already at 457 million barrels, a 80 year high mark and can soon test the limits of the tank capacity of the country. The most vital point is to see pullback of production, but so far no one has initiated. OPEC has not yet cut back production and the major power player of the cartel, Saudi Arabia said that there is no intention to do so in near term.