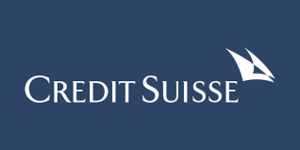 Credit Suisse beat market analysts' estimates for net income its second quarter of the current year by a healthy margin. The lender reported a net income of 647 million Swiss francs ($655.33 million) during the aforesaid period against a market expectation of around 550 million Swiss francs.
Despite this market beating performance, the overall performance of the bank was slower than what it had achieved in the first quarter of the year. The firm had then reported a net income at 694 million Swiss francs.
The notable figures reported by the lender for the second quarter include the following:
Total revenues of 5.6 billion Swiss francs ($5.57 billion)
Net income of 647 million Swiss francs ($655 million)
CET1 ratio of 12.8 percent
According to Tidjane Thiam, chief executive officer of Credit Suisse, the second quarter of the current year "was a period of continued strong performance as we achieved our highest adjusted pre-tax income in the last 12 quarters and our seventh consecutive quarter of year-on-year profit growth."
"For the remainder of 2018, we will continue to focus on growing our wealth management franchise and completing the last two quarters of our restructuring successfully," he said in a statement to the press and the investors.
A pledge was also issued by Thiam for the next year and beyond when the lender would strive to enhance its profitability and achieve higher returns which would increase the value for its shareholders and investors as well as for its customers.
There was also a warning issued by the bank looking forward. One of the major issues that the bank warned about is the growing geopolitical tensions in many parts of the world which could negatively impact the confidence of customers and clients. It also expressed concerns about continued changes to monetary policy by a number of leading central banks in the world. all of these issues could hurt the performance of the bank even though the second quarter results are encouraging.
In its statement, the Swiss bank expressed concerns of heightened uncertainty for the remaining period of the current year because of rising geopolitical developments and the escalating tensions clouding global trade. The bank also cited the negative impacts of monetary policy changes by central banks, which are likely to "trigger periods of heightened uncertainty through the remainder of 2018. That uncertainty has, over time, the potential to negatively affect confidence, which in turn could impact a wide range of asset classes and activities, relevant for our more market-dependent activities," Credit Suisse said in a statement.
(Source:www.cnbc.com)