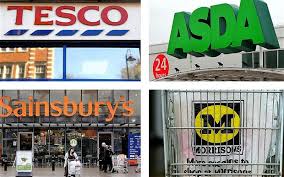 Despite committing hundreds of millions of pounds to price cuts, UK food retail giants Tesco, Asda and Morrisons turned out to be the worst performing food retailers in Britain in the last three months.
According to the latest market share figures from Kantar, Sainsbury's was the only one of the so-called big four supermarkets to increase sales during the period ending September 13.
Tesco, Morrisons and Asda sales fell by 1%, 1.4% and 2.9% respectively on the year-on-year basis for the 12 weeks leading up to 13 September, said the Kantar figures.
Following a shift in shopping habits as consumers spend more in small convenience stores, online, and with the discounters Aldi and Lidl, the big four names in the UK retail industry have been under constant pressure sales also increased for the Co-operative and Iceland which have struggled in recent months in terms of sales and revenue.
The growth of the discounters have been significantly high compared to the struggle of the four established retailers with Aldi sales increasing be 17.3% and Lidl growing at 16%.
According to separate research from Nielsen, almost half of British grocery shoppers now visit Aldi or Lidl every month which has resultedin the dro in sales for the major three and increase in sale for Aldi and Lidl.
"These discounters are attracting new shoppers by opening new stores and using ads that communicate not just value, but quality and freshness too," said Mike Watkins, an analyst at Nielsen.
There was however a slight increase in the overall sales for the grocery industry n the UK which rose by 0.9% during the 12 weeks. But the growth has not been encouraging as this has been the sixth consecutive month when the sales have grown by less than 1% as the supermarket price war has reduced the value of sales and the overall revenues.
"
Tesco's market share now stands at 28.2%, its lowest level for a decade. This week about a year ago, the biggest retailer of Britain was rocked by the discovery of the accounting scandal. Tesco continues to underperform in the wider market, despite the unveiling of a detailed turnaround plan
by Dave Lewis, its chief executive.