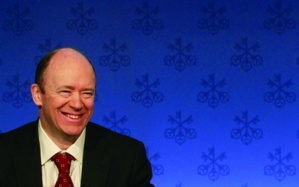 Deutsche Bank AG has been turning into a takeover specialist in Britain, after helping to reshape tow of the world's biggest banks, as it hopes to end years of underperformance and missed targets. John Cryan, who was previously a supervisory board member since 2013, and hadn't run any prior operations for the firm, was announced as the new CEO in a surprise announcement.

He is set to replace the current co-CEO Anshu Jain, and is set to be the sole CEO after Juergen Fitschen steps down next May. The shares of the Europe's largest bank, soared by 8.2% after almost two years, welcoming this announcement.

Cryan, now 54, climbed the ranks at USB AG to become one of its most senior investment bankers, helping advise Dutch lender ABN Amro Holding NV on its record-setting sale in 2007. When the financial crisis hit in 2008, he was promoted to CFO, where he helped mitigate the crisis by helping to axe the Swiss bank's balance sheet amid a government rescue.

"John's not naturally a cheerleader, he's cerebral," said Olivier Sarkozy, who at UBS served alongside Cryan as co-head of the investment banking group serving financial institutions. "The board knows him well, and they're saying we want that type of thoughtfulness, intellectual rigor."

The decision of the panel to pick Cryan as CEO still surprised many, as investors had pegged Chairman Paul Achleitner to step into the role.

Shrinking Bank
Cryan is set to inherit Fitschen's and Jain's two-month-old plan to overhaul and restructure the bank's operations. Work has been cut out for Cryan, as till now this initiative has been a tough sell to investors, looking for profitability among dreary market conditions. The overhaul plan suggests shrinking of the investment bank and also selling of Postbank, a part of its consumer operations, which the firm had spent more than 6 billion Euros to acquire.

Deutsche Bank's managers are facing all time low approvals. According to an investor speaking on condition of anonymity, after Cryan's addition, investors are looking forward to Cryan's choice of either advancing Strategy 2020 or modify it.
'Masterful Job'
"John got us hired to sell ABN Amro, and he dealt with all the controversy that surrounded that transaction," Sarkozy said. "He did a masterful job."

On his appointment as CFO for UBS, Cryan faced crisis-era losses and write-downs of over $48 billion. He avoided broad promises or elaborate plans and stuck to assuring investors, that avoidance of risks, that almost bankrupted the firm, would result in low profitability in the short term.
London Home
While he was the CFO for UBS, Cryan helped slash down assets from 2 trillion Francs to about 1.2 trillion Swiss Francs, according to Bloomberg. The bank downsized by thousands, and reorganized to focus on wealth management. On a loss of $2.3 billion by a 31 year old trader, on unauthorized bets hidden from the management, Cryan helped stir UBS away from the controversy.
Defining Future
Under the co-leadership of Jain and Fitschen, Deutsche Bank's stocks performed the worst when compared to his peers worldwide. Cryan has to now ensure the bank recovers from the 15% fall in shares it incurred when the overhaul strategy was proposed by the co-CEOs.
Following this underperformance, Jain proposed a change in the leadership, and Fitschen decided to resign along with Jain, informed an insider. In the statement announcing his appointment, Cryan didn't give any clues about a potential change of direction. "Our future will be defined by how well we deliver on strategy, impress clients and reduce complexity," he said.
References:
http://www.bloomberg.com/news/articles/2015-06-08/deutsche-bank-s-surprise-ceo-pick-brings-turnaround-track-record