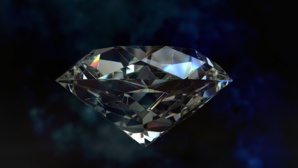 It turns out diamonds are not only a girl's best friend, but have acquired a best friend status with investors as well.

On Tuesday, the Singapore Diamond Investment Exchange (SDIX) launched a new standardized form for the precious stone which rivals gold as a safe haven for investment.

Despite the diamond industry saying that these precious stones are the world's most concentrated form of wealth, investors have since long viewed diamonds as having lesser value than gold since every stone is uniquely different, which makes its value subjective and makes trading difficult.

However, going by Alain Vandenborre, the chairman and founder of SDIX, technology has solved that problem and has made diamonds "the new gold".

Case in point: Diamond Bullion, produced by the Singapore Diamond Mint, is a collection of investment grade diamonds whose value can be quickly checked. Denominations are set to initially vary between $100,000 to $200,000 (£75,926 and £151,852), with the potential entry of higher and lower values in the near future.

As such, the diamonds are stored in a credit card-sized device which contains a chip which enables lightening fast valuations based on exchange trading; the chip also enables instant authentication as to who is the owner of the diamond.

Furthermore, every investment bears the mark of Diamond Bullion, which was developed by the International Institute of Diamond Grading and Research (IIDGR), a part of the De Beers Group; this again is a further guarantee.

De Beers is the biggest diamond producer in the world by value and is a leader in equipment that grades and authenticates diamonds. It typically sells its diamonds only to a limited group of trusted individuals who are called sightholders.

Since 2008, De Beers has been selling rough diamonds through online auctions; from June this years the company has been auctioning online its polished diamonds as well.

Launched last year, SDIX claims to be the world's first and only electronic exchange for trading investment-grade diamonds.

Diamond miners in principle have welcomed the Diamond Bullion.

"Anything that can bring transparency to the diamond price is a good thing," said Karl Smithson, CEO of Stellar Diamonds, which has a diamond-mining project in Sierra Leone.

Source: