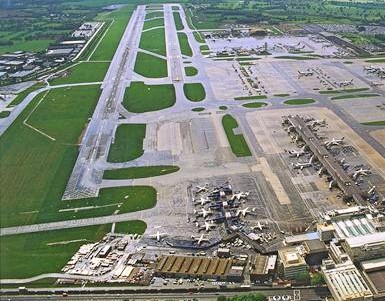 Crude oil discovery near Gatwick airport has stimulated UK's hopes for oil production. Massive oil reserves are equivalent to almost 100 billion barrels of crude oil. The discovery was made by a small exploration firm, Horse Hill. About 30% of the company's stake is owned by UK Oil & Gas investments. The company witnessed a significant upsurge in it stock prices following the announcement. The crude oil could possible lie underneath the green fields near Gatwick airport, while there is a high probability that only a section of it could be successfully recovered. This huge finding possess national significance and is considered to be the largest onshore discovery in the UK.

Over the past decades Britain has been largely reliant on North Sea to meet its oil requirements, specifically during 1980's. At that time, Margaret Thatcher's government gained a lot because of flourishing oil output and increased prices. But the output started sliding since the change of the century.

Over 45 billion barrels of oil has been extracted from the North Sea in past 40 years but the productivity is gradually decreasing (according to British Petroleum's report). And, UKOG is hopeful that the gap in oil production can be filled by Horse Hill. According to a government report previous year, the area of Weald Basin is estimated to possess shale oil reserves of around 2.2-8.5 billion barrels of oil. Out of the total 100 billion barrels, 5% to 15% can probably be extracted by 2030. This means that 10% to 30% of the nation's total oil requirement can be met by Weald Area.

The oil founded by UKOG is located in the southern Weald Basin in Britain which is mainly a rural area situated near the airport. It is positioned adjacent to the biggest onshore crude oil field in Europe. According some analysts, the oil extraction through well drilling will be highly expensive particularly at the time when the crude oil prices have dropped to historical lows and energy companies are cutting down investment plans in new projects.

However, there is an uncertainty about the levels of investments required to make the oil extraction commercially possible. It is quite clear that there will be huge opposition from the residents of West Sussex. UKOG said that the conventional drilling techniques shall be used to extract the oil as unconventional method of fracking might lead to controversies. However, oil drilling in the rural part of England will be highly challenging as the high employment in the area might lead to political repercussion. Moreover, environmental protestors will claim that fossil fuels should be left in the grounds in order to save the world from the impact of climate changes. However, investor's confidence that Gatwick will soon gain popularity not only for its airport but also its oil reserves, was evident in the rally of UKOG shares.