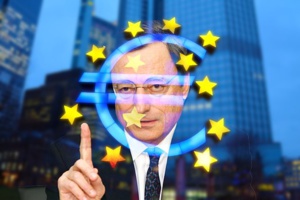 Towards the end of this week, "freshly required data" revealed that the lending sector on euro-zone seems to have picked up to "multi-year highs in December". It is an indication that the cheap cash of European Central Bank is setting its foot in the economy, even if it may not be "fast enough for policy" for policy to solidify soon.
ECB has slashed down rates to negative in the hope of reviving "lending" for the "growth and inflation" of fuel, whereby banks were given "free loans" which purchased "1.5 trillion euros' worth of assets" marking "record lows" for costs of burrowing. Last December, euro-zone's inflation rate reached "1.1 percent" while in the previous month of November it hovered on "0.6 percent", resulting in the "hawks" to have "argued for reduced stimulus".
However, for the President of ECB, Mario Draghi, the recovering surge of inflation was not convincing to be "sustainable"; therefore no talks have been carried out on the matter of putting an end to the "bank's policy of easy money". Essen based National Bank's economist, Dirk Gojny is of the opinion that:
"It's good that banks are lending more to companies. But the whole thing is still fragile, because of the weak growth in Europe".
"This will not make Mario Draghi deviate from his expansionary stance in the foreseeable future."
In the last month of 2016, the bank loan rates to the companies within euro-zone went up by "2.3 percent", following a "revised 2.1 percent" increment in the previous month, whereby marking the "fastest pace" of growth since the mid-year of 2009, as demonstrated by ECB data on Friday. On the front of household lending the rates "accelerated to 2.0 percent" in last December from its "1.9 percent" rates of November 2016, which turned out to be fastest since the mid-year of 2011. Greg Fuzesi, an economist at JPMorgan, stated:
"This is clearly not that strong in absolute terms, but it continues to be a big improvement on the last couple of years. Lending trends are also positive in most countries."
According to Reuters:
"The annual growth rate of the M3 measure of money circulating in the euro zone, which has in the past often predicted economic activity, rose to 5.0 percent last month from 4.8 percent in November, slightly beating forecasts of 4.9 percent".
References:
http://www.reuters.com/