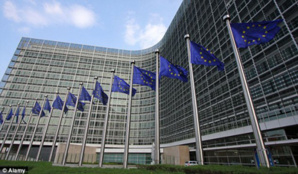 This week began at an "upbeat note" for the European stocks as they received their cue for the "a strong session in Asia", whereby they ignored the data that was released by Japan and China and brought in disappointment.
In the morning, the "Stoxx Europe 600 index" benchmark was set at "2.8%", while the German DAX went up by "2.7%" CAC 40 of France stood at a "2.9% firmer" ground.
The Chinese data revealed that in the month of January the export section in China fell by "11.2%" in comparison to last year's figures and the imports came down by "18.8%" before it touched bay.
However, according to the Japanese figures, "the economy contracted at a seasonally-adjusted annual rate", which was at "1.4%" in the last quarter of 2015; significantly, a rather weak performance in comparison to the expected contraction of "0.8%" predicted by the economists.
Moreover, the Shanghai Composite still retained the exception wherein, stocks "rallied" after the last week's "heavy sell off", while there are hopes burning that "the weak data" would trigger "further monetary easing" on Beijing's side. Nikkei of Japan shot by "7.2%" and the index of Hang Seng gained "3.3%".
The Stockbroker Interactive Investor's investment head, Rebecca O'Keeffe, said:
"Stocks have soared in Asia, rebounding aggressively after last week's falls and providing further impetus for European markets.. Recent moves have seen markets lurching from anticipation to despair, sometimes on the same day - so the hope is that this sharp move higher will set a more positive tone for investors, rather than just be seen as an opportunity to sell the rally".
"Global Central banks are yet again in the spotlight, with the People's Bank of China intervening to boost the renminbi and Mario Draghi widely expected to discuss further support during his testimony this afternoon."
On the other hand, the HSBC bank occupied the top place among corporate fronts. The said place was acquired by the bank after it decided to retain its headquarters in London instead of shifting the same to Hong Kong.
Furthermore, the company of "Reckitt Benckiser" one of the "London-listed consumer goods company" overshadowed the expectations of analysts in its last quarter sales' figured, adding to this, the Digitallook also writes:
"Property heavyweight Hammerson was in the black after posting a rise in full year pre-tax profit amid strong UK demand.
"BAE Systems advanced after the defence firm said it has appointed Charles Woodburn to the newly-create role of chief operating officer, following weekend reports that it was lining him up to be the next chief executive".
References:
http://www.digitallook.com/