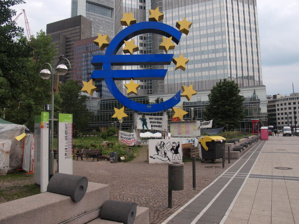 JIP
New head of Deutsche Bank John Cryan said on Thursday that following two years will be very "hard" as staff cuts, restructuring of business and technology innovation at early stages always have a negative impact on performance. In fact, Cryan repeated words of new Head of the Credit Suisse Group Tidjane Thiam, who spoke about similar problems two weeks earlier during his presentation of a plan of reorganization.

Seven years after the global financial crisis, the largest banks in Europe are forced to shake up their business, as the tightening of regulation has limited their capabilities and forced to meet the new rules. The volume of revenues remain very low.

- European investment banks are facing a difficult time. They have no other alternative but to continue to reduce costs. In the next two years, the banks' investors will have to be patient and not to wait for a high return on their investment, - said Christian Sole, manager at Candriam Investors Group, which has $ 99 billion under their management.

It should be noted that because of the difficulties in connection with the introduction of the banking standard Basel III, Deutsche Bank was forced to launch a large-scale reorganization, during which number of employees will be reduced by 35 thousand, and ceased operations in 10 countries.

It also became known that Italian UniCredit Bank decided to reduce about 12 thousand jobs (or 9.4% of the total staff) to improve earnings and capital. Reductions are likely to include the dismissal of about 3 thousand people in Germany, as well as employees of the Austrian divisions.