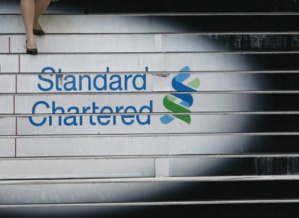 The "long-term debt" of Moody's on the "Standard Chartered" ratings have been downgrading for there are expectations of a continuous weak profitability of the lenders for the coming two years. Moreover, the same also left its repercussion in some market areas wherein it operates and poses a "challenging environment" all together.
According to the agency that deals with the ratings:
"...the group is implementing a number of initiatives to reduce its credit risk and restore its profitability, including a reduction in risky exposures and a downsizing of its operations in some of its less profitable markets.
"However, Moody's expects profitability to remain weak for at least two years, and the operating environment in some of the markets in which Standard Chartered operates has become more challenging."
Additionally, the "senior unsecured debt rating" of StanChart was also brought down by "one notch", likewise, the figure came down to "Aa3" from its previous stance of "Aa2" bringing in a "negative" outlook. Nevertheless, the "short-term" deposits' ratings on the bank along with its debt rates remain "unchanged at P-1".
The asset quality along with the profitability of StanChart that focuses on Asia had a significant deterioration in the year of 2015 following the exposure to "commodities and India", claimed Moody's. The said decision had increased Moody's "loan ratio" problem to "4.8%" which had been earlier "2.7%".
References:
http://www.digitallook.com/