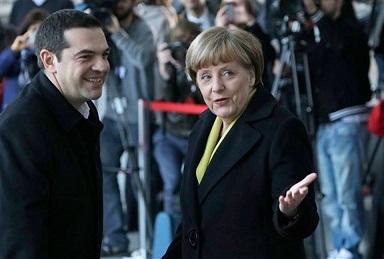 Alexis Tsipras, Greece's Prime Minister visited Berlin to meet Angela Merkel, the German Chancellor this week. The meeting took place at the time when Greece's relation is in trouble with other Eurozone partners. However, Merkel did not disclose any details about her meeting with Greek Prime Minister. It is now becoming essential for Greece to work with European Central Bank, European Commission and International Monetary Fund to solve its funding requirement. Hence there is positive wave among Euro Zone members that Greece is moving closer to accept the conditions required to be fulfilled in order to raise more funds.

Greece is in grave trouble and is likely to run out of funds soon, if it is unable to secure assistance from Eurozone. It will definitely take some time for Greece to convince the doubtful creditors that the nation is still loyal to the economic reforms. After intense talks with Germany, Athens stated that it will be soon presenting a reform package to the Eurozone with the hopes of correcting the earlier messy default.

Moreover, Greece is highly optimistic that if the finance ministers sanctioned the nation's list of reforms then it will therefore allow a return of Euro 1.9 billion on profits earned on Greek bonds by European Central Bank. It is also said that Athens is expecting return of around 1.2 billion euros cash that was left in the bailout fund of the Greek bank which was seized by Eurozone previous month.

However, the reforms are extremely sensitive for the Greece Prime Minister, who came into power in January 2015 and promised to bring an end to the austerity measures. But Tsipras was compelled to agree for extension of the bailout program because of the underlying threat of banking failure.

European Financial Stability Facility for bailout fund is currently reviewing Greek's case so as to take appropriate decisions for cash refund. This is apparently a motivation to Tsipras, as earlier Greece was denied funds till the time its reform gets approved by Eurozone and are executed to satisfy creditors.
Merkel stated that being one out of 19 Eurozone nations, Germany is in no situation to decide about the pertinence of Greek's bailout program. However, it is the job of institutional framework to take decision regarding the bailout. Moreover, she said that Germany believes that Greece is all set to make necessary changes in its reforms as promised in return for the financial assistance.

This Berlin summit at a time just after the pledge by the European Union to offer €2 billion to Greece to ease the financial crisis. Jean-Claude Juncker, the European Commission President added that the entire fund of €2 billion will be spent on Greek's growth and for social integration.

Lately, Greece has been relying for its fund on repo transaction wherein it borrows funds from the state bodies but now it seems that could not be continued in long run. However, the nation can manage its cash crunch till April 20 through its short-term borrowing.