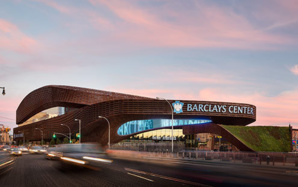 In an announcement, the Forest City Enterprises, Inc. revealed that "Onexim Sports and Entertainment" has engaged itself with the former's subsidiary, Nets Sports and Entertainment, through a "purchase and sale agreement", whereby "Onexim will become the 100 percent equity owner of the Barclays Center arena" along with the "Brooklyn Nets basketball team".
The transaction, which took place earlier this month, was carried out based on a unanimous decision taken by the board of governors at NBA. The valuation figures of the team were estimated at an approximate amount of "$875 million", while the arena added another "$825 million". Both the amounts included "debt for each asset". NS&E is a current "non-controlling" twenty percent "equity interest" holder of the Brooklyn Nets team along with a fifty five percent share in the arena.
On the other hand, Forest City is the sixty two percent owner of NS&E, while the later "expects to receive proceeds from the transaction in a combination of cash and notes receivable of approximately $285 million at closing". The expected breakup of the receipt would be seventy five percent of the total "proceeds" in cash bearing an "annual interest at 4.5 percent", the payable period being "three to five-and-one-half years from the date of closing". In the words of the C.E.O cum the President of the Forest City, David J. LaRue:
"As we continue to focus our portfolio on core retail, office and apartment assets in strong urban markets, and transition to REIT status, this transaction is a significant milestone. I want to thank the NBA for their support and I salute our New York team, led by Bruce Ratner, MaryAnne Gilmartin and David Berliner, as well as our partner and our associates and advisors involved in making this deal a reality."
Moreover, the Executive Chairman of Forest City Ratner Companies, Bruce Ratner, added:
"The development of Barclays Center enabled the return of major league professional sports and world-class entertainment to Brooklyn, and in just over three years of operations, it has become one of the top-grossing arenas in the country. As an anchor for the continued development of Pacific Park Brooklyn, Barclays Center stands as an iconic landmark for the borough."
The said transaction is expected to be completed by the end of this year or in the beginning of next year, as guided by the Evercore ISI for "fairness opinion" in the transaction of Forest City and NS&E.
References:
http://www.streetinsider.com/