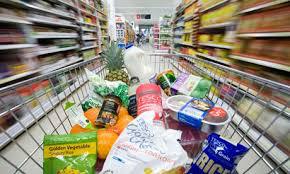 Retail giants Tesco, Sainsbury and Morrison, all contributed to the fall in the sales in terms of volumes in the UK supermarket in recent weeks fell. This is the first time since December that UK supermarket sales have fallen.
The discount stores reportedly lapped the fall in market share by the surpermarkets and retail giants.
Survey agency Nielson reported on Friday that grocery sales volumes shrank by 0.3% during the four weeks ending 15 August on a tea-on-year basis. The fall in sale volumes has been attributed to the reduction in demand in soft drinks, frozen foods and general merchandise.
Clocking the fourth decline in the last five periods, the value of sales at the tills fell 1.1% and up from the 0.4% increase during the four weeks to 18 July when the early July heatwave drove a strong few weeks for the industry.
None of the four big players in the retail market were exempt from the fall in sale volume. Tesco lost 1.2 percentage points to clock 27.9% from 28.4%. Sainbury's performed relatively better with just 0.5 percentage lost to reach 15.9%. Asda lost a whopping 3.4%to to be left with a market share of 15.6% while Morrisons ended its run of growth with a 1.3% decline to be left with 10.8% of the market.
The discounters Aldi and Lidl increased their share by 22.6 points and 14.8 respectively gobbled up the shares that were lost by the big four retail companies. According to the Neilson report, while Aldi now has a 6.2% share of the UK retail market, together with Lidl it now accounts for 10.4% of all UK supermarket sales.
The last time that there was decrease in the sale volume on a year-on-year basis was in the four weeks ending December 6 last year. The July survey by Neilson showed that sale volumes had increased by 0.2% for the eighth consecutive monthly year-on-year rise.
"The disappointing growth figures in August reflected the continuing unpredictable summer weather as well as the underlying deflation in retail prices. The week ending 25 July suffered from particularly poor weather with the value of sales down -3.6% against the same period last year, which was notably warmer and included the start of the Commonwealth Games," Nielsen's UK head of retailer and business insight, Mike Watkins, said.
At the same time, on Friday, Sainsbury's announced that it has registered the smallest decline in market share among Britain's 'Big Four' supermarkets.
Following the release of the data the share value of Sainsbury's share price had eased 0.75 percent to reach 238.70 points. There was further fall in the share values in the

London-listed retail companies. Tesco was down 1.39 percent to reach 188.75p and Morrisons traded around 1.78 percent lower at 165.10p.
(Source:www.digitallook.com)