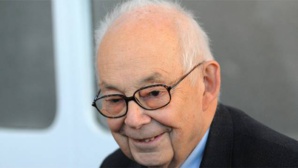 © MaxPPP
François Michelin, grandson of the founder of the company, headed Michelin from 1955 to 1999.
In 1955, François Michelin was appointed co-managing the company, and in 1959, he became its sole leader.
Under his leadership, 'Michelin' had demonstrated unprecedented growth, becoming one of the market leaders thanks to innovation and stringent requirements for product quality, the company said.
From 1999 to May 2006, the company was headed by Edouard Michelin, son of Francois Michelin.
In 2006, he drowned on a fishing trip.
After that, Michel Rollier, not a member of the Michelin family, became the head of the company.
- Mr. François Michelin dedicated his life to the company. He headed it for 47 years, when he handed over the reins to his son Edouard. A visionary and a humanitarian, Mr. François Michelin tirelessly embodied the values of respect that are the very foundation of our Group's identity.
Under his leadership, Michelin experienced unprecedented growth, driven by his passion for innovation as well as his uncompromising attention to quality. He transformed the Group by giving it an international dimension.

Jean-Dominique Senard, Chief Executive Officer of the Michelin Group, said:

"On behalf of the Group's employees, I would like to pay special tribute to this exceptional man who was universally respected for his values, his convictions, and his vision."

When, he took over the family business in 1955, since its foundation not having left the buildings in the city of Clermont-Ferrand in the Massif Central of France, 'Michelin' was the tenth largest in the world among manufacturers of automobile and aircraft wheels and tires.
Today, 'Michelin' shares first place with two other giants - US firms Goodyear and Bridgestone, realizing 40 percent of its production in the US market, employing 130 thousand people, with factories in 20 countries and the average annual turnover exceeding 15 billion
dollars.
The company was founded in 1889. Initially, the company manufactured tires for bicycles, and later entered the market of automobile tires (in 1891 the company received a patent for the production of removable pneumatic tires). In 1907, Michelin opened its first company outside of France - in Turin.
From 1934 to 1976, Michelin held the car manufacturer Citroën. In 1988, the company absorbed the American tire manufacturer BF Goodrich Company, of all the company's history it has acquired a total of about ten tire companies of different sizes. Michelin is the author of many innovations in the tire industry, such as the invention of the radial tire in 1946. Also, one of the most important moments was the appearance of the so-called 'green tires' Energy, having a low coefficient of rolling resistance, which saves fuel.