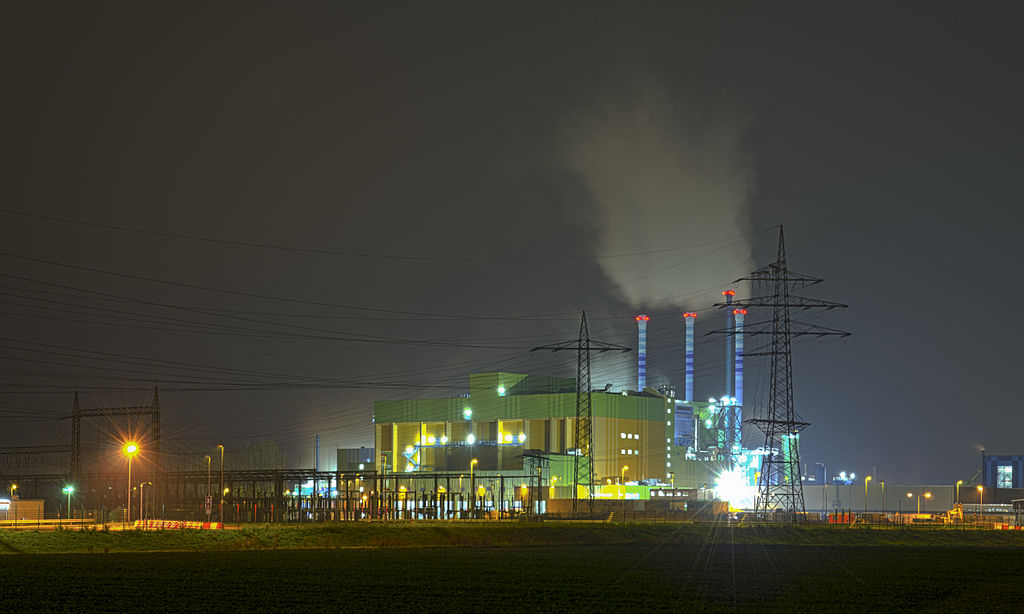 Waste incineration plant, Industry park Höchst, Hesse, Germany (CC Licence)
The Global Green Economy Index in 2010 was first published
"guided by a belief that the environment, climate change and green, low-carbon growth would rapidly become defining issues for national policy makers and the global reputation of countries."
Four years later, many countries have made a point to make the top of that index and angle their policies towards the green goal.
Among these countries, the most well-known world leaders have built up their reputations around huge efforts in waste management. Sweden, which has been at the top of the Index for years, (1) has acquired its ranking by becoming a model of sustainable waste management. The country has a garbage problem, but unlike most of the countries on the planet, Sweden's problem is that it's simply not generating enough trash to incinerate and produce green waste-to-energy (WTE) in its plants. To make a profit, Sweden imports trash from other countries. According to the environmental expert Catarina Ostlunf, Sweden has the world's best incineration plants as far as energy efficiency is concerned. Nonetheless, the nation continues to explore ways to reduce its own waste even further.
While Sweden mainly focuses on its household garbage, treating factory waste, especially nuclear waste, remains one of the country's biggest public debates. The Swedes have been investigating and experimenting in that field as well and are determined to keep their title of champions in the green tech industry. Working with French industrial designer CNIM to experiment with deep storage for radioactive waste, they have already produced a demonstrator for horizontal transportation of waste containers and might boost Sweden to a leading position in that field as well.
The best performing countries in Europe when it comes to waste avoidance and recycling are Estonia, Slovenia and Belgium, according to Zero Waste Europe. As the top EU performer, Estonia generates 615lb of trash per person while recycling 40 percent, leaving 368lb to be disposed. And by investing in WTE plants and flue gas treatment, Estonia could take the lead in many rankings in the near future. For instance, the Iru power plant built in Estonia built by CNIM for Eesti Energia opened last year and has a heat capacity of 50MW and an electricity generation capacity of 17MW, placing the country ahead in the race. The system for treatment of flue gas comes from LAB, a subsidiary of CNIM.
A plant like Iru can burn up to 220,000 tons per year, which was previously deposited in landfills, and therefore the nearly 70 million m3 of natural gas that was used each year for heat and electric will no longer be needed. This has direct repercussions on Estonia's energy security and improves its foreign trade balance.
Although countries like the UK or France aren't among the top 10, they have recently appointed some of the world's leading companies to build gigantic waste-to-energy plants. The French giant Bouygues is building with CNIM a WTE of over 100M€ in Corby, UK and construction commenced late last year. In Staffordshire, UK Veolia Environmental Services just opened a 23 MW waste-to-energy facility that processes about 300,000 tons of residual waste each year.
Everywhere in Europe, the price of waste is relatively stable compared to the prices of other combustibles, such as natural gas or wood, and these countries are able to lower and sustain the cost of heat and electric in the long run.
European countries are not the only ones innovating in waste management and WTE technologies. Countries in Central-Asia and Caucasia have expressed an urgent need for these solutions. Whether due to previous weak infrastructure, in terms of heat and electric, which historically were not costly nor environmentally friendly or for geopolitical reasons these countries are motivated today to innovate in this field.
It's the same case in Baku, capital of the Republic of Azerbaijan, with a WTE plant built again by CNIM (2). As Guy Eames from RuBC (Green Building Russia) mentions,
"A market for Green Building is emerging in Azerbaijan, which has transformed its economy and environment over the last decade. Already, several prominent projects are under way, such as White City, which will help build capacity for future developments."
Baku's White City is a futurist sustainable urban environment aimed at attracting investments and generating jobs while strengthening the city's economy.
As the race for the greenest country spreads to the Middle East and Africa, countries like Dubai, Qatar and Bahrain have stepped up to invest.
"We are currently finalizing our master plan for 2030,"
said Abdulmajeed Abdulaziz Saifaie, director or Dubai Municipality's Waste Management Department. Saifaie states,
"The main objective of this plan is to reduce landfill waste. By 2030, we aim to have completely eliminated landfill waste in Dubai."
(3)
In Bahrain, the Minister of Works, Municipalities and Urban Planning, Essam bin Abdulla Khalaf is expected to announce the country's first waste recycling plant that should handle 390,000 tons of waste a year and generate 200GWh/y of electricity (4).
How long before these countries hit the top five? The race continues and could soon attract some parts of Africa, such as countries like Gambia, Ghana and Malawi, which are expected to make moves in the green field in the next future.
(1)The 10 Greenest Countries in the world, Ecowatch.com, Anastasia Pantsios, October 2014.
(2) Baku WTE plant (2 X 33 t/h) (CNIM) and allowing medical waste incineration according to ABC.az
(3) Declaration made to Construction Week Online. (February 2014)
(4) According to the Arabic daily Al Ayan