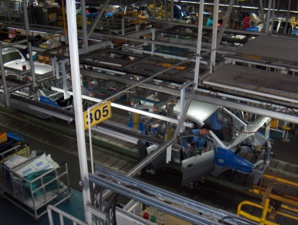 Global automakers have already announced that they encountered problems due to the slowdown in growth in China, as sales in this market decreased.

Although the automakers expect growth in the long term, production boom is already in the past, which suggests that global companies will have to face economic difficulties because of the decline in demand in the Chinese market.

In the first half of 2015, the overall rate of utilization of 23 joint ventures - China requires foreign carmakers to set up joint ventures with local players - for the first time dropped to less than 100%, averaging 94.3% compared to 107.4% a year earlier , according to data provided by Sanford C. Bernstein.

SAIC General Motors, a joint venture between GM and the Chinese automaker SAIC Motor, made 2.4% fewer cars in the first half of this year compared with last year, according to the Association of Chinese automakers.

FAW-Volkswagen Automobile Co., one of the joint ventures of Volkswagen in China, made 1.2% fewer cars over the same period.

The joint venture Volkswagen and SAIC was one of three companies that have managed to increase the capacity utilization in the first half of the year, according to Bernstein.

Major automakers such as GM, Volkswagen and BMW, have become particularly vulnerable to a slowdown in growth in China, after the country experienced sales growth for a few years.

China accounts for 35% of world Volkswagen sales, 35% - GM and 20% - BMW, according to official information companies.

In July, car sales in China fell for the second month in a row: 6.6% year on year. Sales of foreign brands cars fell by 1.5% in the first half of the year compared with last year. For comparison, in general, the automobile market in this period experienced an increase of 4.8% year on year.

Reduced production goes hand in hand with a reduction in sales volumes.

For instance, SAIC GM has delivered 4.8% fewer vehicles than last year, and Volkswagen group - the largest overseas automaker in China by sales - sold 4% less cars in China. It should be noted, that Volkswagen generates more than half its profits in this country.

Global automakers have build more factories in China than in any other country since 2008, but now they cancel the work shifts, reduce working hours, increase the incentives for dealers and reduce prices for cars.

Automakers will get big profits if their plants operate at 100% load, however, if their workload decreases to less than 80%, the losses will be huge.

Companies like Volkswagen and GM, cut prices to raise sales. In the second half of this year, China's automobiles were sold at a discount of more than 10% compared to 7% discount to last year, according to Ways Consulting.

Factories continue to operate nearly full capacity as the industry itself is still profitable, so companies still plan to increase capacity, relying on the continuation of economic growth in China, albeit at a slower pace.

GM plans to build capacity in China to 5 million cars a year by 2018, compared to 3.5 million at present.

Volkswagen intends to build capacity in China to 5 million cars a year by 2019, a growth of more than 40% compared to current levels.

Hyundai Motor is building two new plants in the country, each of which has the capacity to produce 300 thousand cars a year.

According to analysts, many automakers are making plans to expand production in China based on the expectation that at least 30 million cars will be sold annually in China by 2020. However, given the slowdown in China's economic growth, the outlook may not be as favorable, analysts say.

At some point, they say, the reduction of production levels may be inevitable.