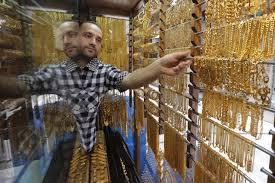 Leading industry analysts at a conference have said that in the next couple of months, people should not be surprised to see that prices of gold rise to levels above $1200 an ounce. With a weakening global economic scenario, choppy financial markets as well as the devaluation of the yuan have boosted the price of gold.
The price of the metal has been on the rebound from 5
th
July onwards and has risen by almost 8%. Its rise has been further boosted by policies emanating out of the Federal Reserve's last meeting that dented expectations of an interest rate hike in the U.S. Last Friday saw spot prices hit their peak at $1168.40.
"After the devaluation of the Chinese currency, people are worried. They are afraid of a currency war. They are going back to gold," said RajanVenkatesh, head of India bullion at ScotiaMocatta, which is part of Canada's Bank of Nova Scotia. He expects prices to rise to $1,230 to $1,240 levels within a month's time.
Valcambi is one of the biggest gold refiners of the world whose chief executive officer, Michael Mesaric is of the opinion that the wait for the lowest price of gold-deposits that prevailed from the year of 2008, will now end soon. The gold exchange trade funds will be soaring upward once again and the prices of gold will hit "$1,350" by the middle of 2016, expects Mesaric.
The recent "bounce" has put the gold market under a "heavy pressure" for the analysts expect a rise in the rates of the Fed which would be in timely for "holding non-yielding bullion" amid the strengthening drive of dollar. It is an opportunity cost that has arrived almost after a decades of waiting. However, all analysts are not of the same view, as the founder of RPMC, precious metals consultancy based at Dubai, Jeffrey Rhodes believes that:
"All the bad news for gold is in the press".
Although, looking at the eastern markets of China, Greece and India Rhodes sees a rising demand of gold amid their "depreciating" currencies:
"There is room in the world for strong dollar and strong gold. And strong gold is an alternative to emerging market currency."
Source(s):
http://www.reuters.com/article/2015/08/22/us-gold-prices-idUSKCN0QR0MO20150822