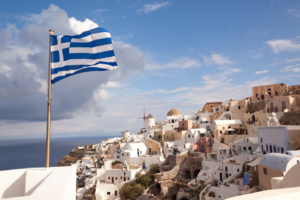 It is noted that from now on, Greek companies will apply to the commercial banks for approval of payment of import up to € 100 thousand. (Instead of € 50 thousand.). Documents for the approval of transactions in excess of € 100 thous. will continue to be sent to the committee for approval of banking operations of the Ministry of Finance.
- Transfer of operations in the amount of less than € 100 thousand under the competence of commercial banks - one of the measures aimed at the normalization of domestic and foreign trade of the country - reports Athens News Agency.

Recall that last week, the leaders of the Eurozone countries have taken a unanimous decision to resolve the Greek debt crisis, which will enable the country to remain in the euro zone. Thus, the summit kept the Union in present structure. The Greek Parliament has approved a second package of reforms needed to negotiate with creditors. MPs agreed with the tightening of the rules of the confiscation of the mortgaged property, simplification of court procedures, as well as with the new rules of bank restructuring.