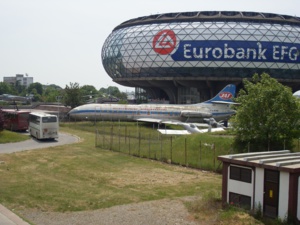 Wusel007
The same decision can take National Bank of Greece SA - credit organization will focus on the amount they will be able to receive from the sale of the Turkish unit Finansbank AS.
A similar measure is being considered by another major bank, National Bank of Greece SA. The final decision will be taken by the company's management, depending on the sum from the sale of Turkish unit Finansbank AS, the source said.
Earlier, Piraeus Bank SA announced the exchange of bonds for shares. Exchange's subjects are the bank bonds worth about € 500 million. Holders of bonds maturing in 2017 were offered shares equivalent to 100% of the nominal value of bonds or cash in the amount equal to 43% of the value of bonds.
The average value of the bonds of Greek banks rose on news of the possibility of exchange.
It has been decided to allocate € 25 billion for the recapitalization of Greek banks experiencing difficulties because of lack of capital - this amount is incorporated in the program of financial aid to the country. In August, the finance ministers of the Eurozone countries have warned that bondholders of Greek financial companies may suffer some losses before the funds are be used.
Recall that National Statistical Service of Greece has revised the growth rate of the economy upwards.
According to the final data, Greece's GDP grew in April-June by 0.9% compared with the previous quarter and by 1.7% in annual terms.
Previously was reported a rise of 0.8% and 1.5%, respectively.
According to preliminary data of Static Control of the European Union, promulgated on August 14 growth amounted to 0.8% and 1.4%.
The revised data will be published on September 8.
According to estimates of the Greek Statistical Department, consumer spending in the second quarter increased by 1.1% compared to January-March.
Exports rose by 0.1% and imports decreased by 2.3%.
According to experts, the growth of the Greek economy is based on consumers that had been actively spending on expensive purchases, including cars and large household appliances, before restrictions on the movement of capital, announced in late June, were put.
source: bloomberg.com