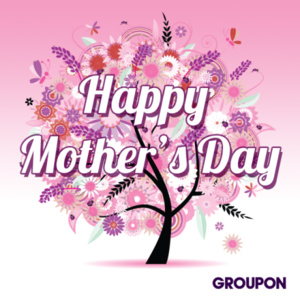 So as to welcome Mother's Day,
Groupon
kickstarted its
Mother's Day Collection
campaign, in which it is offering potential buyers not only the very best available treats and gift giving experience but, more importantly at fabulous prices as well. Further, for the period of 29
th
April to 10
th
May, for every deal purchased from its Mother Day's Collection, it will donate to Children's Miracle Network (CMN) Hospital, upto a maximum of $50,000.
So as to further rally support for the Children's Miracle Network Hospital, buyers can further personally make a
donation
to it, apart from their regular purchases for their Mother's Day Collection. Their dedicated Mother's Day Collection includes a whole range of activities which you can indulge in, starting from luxury day spas, slurpy brunches to unique local experiences designed to elevate the fun level for the entire family.
The following is just an indicative sample of Groupon's gifting options:
Groupon's offers doesn't stop just there: apart from allowing you to indulge yourself in some therapeutic shopping experiences it also offers two mind blowing sweepstakes**, wherein prizes are the newly released
Apple Watches
and
one year's worth of spa days
.
In case you are hunting for ideas, you can always check out these popular
Mom Bloggers
who offer insightful gift giving ideas that makes Mother's Day extra special.
The train of Groupon's offers doesn't stop just there: new members are offered fabulous deals to Sam's Club membership; for just $45 new members receive a One-Year Plus membership along with a $20 gift card and 3 vouchers for cupcakes, chicken and salsa, which would normally cost $142.94
*Groupon will donate $0.25 cents to Children's Miracle Network Hospitals for every voucher purchased from the Mother's Day Collection, up to $50,000.
** Please note that no purchase is necessary in order to win or enter the sweepstakes. A purchase will not increase your chances of winning the sweepstakes either. If you would like to enter the sweepstakes you can either click
here
or
here
.
Please note that there is a limit on the number of times a person can enter the sweepstakes. The odds of winning it depends on the total applicants. The sweepstake is void wherever it is prohibited by law.
Only those who are legal residents of the United States, other than US Virgin Islands and Puerto Rico and who have crossed 18 years of age can participate in it.
The date and time of closure for the sweepstake are 05-10-2015 and 11:59 respectively. The sweepstake is subject to the
full official rules
.
References:
http://www.businesswire.com/news/home/20150429005798/en#.VUW_FY6qqko