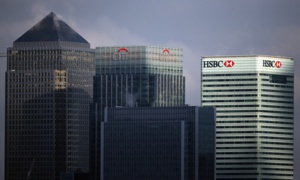 The giant banking body of HSBC revealed that the decision has been taken by them in favour of retaining its headquarters in the United Kingdom. Moreover, it also added that HSBC will "dropping" its review of "where it is based" that was issued once in every three years.
The bank said the decision to remain in the U.K came unanimously from the board, followed by the threat to HSBC for moving the business to the city of Hong Kong for retaliating "stricter UK regulation".
HSBC issued a statement wherein it clarified the reason behind its decision making process, whereby the United Kingdom is:
"...an important and globally connected economy".
"It has an internationally respected regulatory framework and legal system, and immense experience in handling complex international affairs".
"London is one of the world's leading international financial centres and home to a large pool of highly skilled, international talent. It remains therefore ideally positioned to be the home base for a global financial institution such as HSBC."
Although, the strategic nucleus of the HSBC group continues to be Asia.
References:
http://www.digitallook.com/