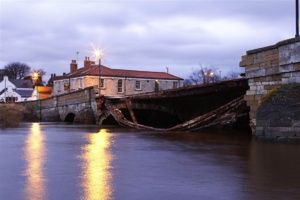 The end of 2015, brought in flooded woes for Britain, whereby the country took in several blows from cyclones as the streets of Britain in some parts turned into "raging torrents" forcing "thousands of residents to evacuate their homes", besides destroying "many historic buildings" which also includes a bridge that could be traced back to the 1700.
Devastating storms hit Northern Britain that were "already struggling to cope with their wettest month on record", affecting most the areas of "northern England, Scotland, Wales and Northern Ireland".
Tadcaster, is a small town located at northern England, that used to sport "an early 18th Century stone bridge", almost "seven decades older than the United States". Unfortunately, the said bridge failed to take the beating from the torrential attacks that Britain witnessed last month. Therefore, the pressure of the "swollen River Wharfe" that ran beneath the bridge, forced the same to collapse.
While, another bridge, namely the "Cambus O' May suspension footbridge", situated at "Aberdeenshire, Scotland" also looks badly beaten by the flood damages. Nevertheless, the British Army tried their best to contain the damage given the extreme scenario, whereby they attempted "to rebuild flood defences".
A helicopter was sent for the Royal Air Force to "dump more than 2,000 pounds of sandbags into a breach in the River Douglas near the town of Croston in northeast England". The after effects of the natural calamities left around twenty thousand "homes and businesses" in Northern part of Ireland without electricity for overnight. However, normalcy was restored everywhere save only five hundred places, although nearly six thousand customers of Scotland "have lost power".
References:
http://www.nbcnews.com/