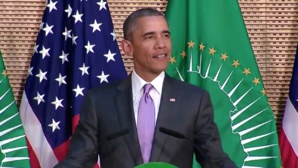 Referring to the comparison drawn between President Obama and the "aloof" science administrator of Star Trek, Mr. Spock, by Maureen Down, a columnist who writes for New York Times, the marketwatch.com site's senior economics reporter, Greg Robb informs that for all you know, the President could be
"...aiming to shed the Vulcan comparison".
President Barack Obama is the forty forth president of the United States of America, who has been holding the position consequently for two elections. At present, he is standing in his last presidential term. Interestingly, on the 28
th
of July 2015, the President "busted out" with quite a statement which, as stated by Down could be viewed by some "as atypical bravado" wherein he claimed
"...that he would likely emerge victorious in a political race for the White House against a crowded field of presidential candidates".
In fact, to quote the speech of the President given at the African Union that took place in Ethiopia wherein he "boasted" his confidence would go like this:
"I think if I ran, I could win," said President Obama.
However, he was quick to note that he possibly couldn't run the election race for the third time as the limits of the Constitution binds him to participate only in two terms. Nevertheless, he also provides a rating of the work done by him since he occupied the presidential chair whereby his first oath of office as the president was taken in the month of January 2009. Obama's rating of the job done by him since his first term or ratherhis self-assessment as termed by Down is:
"pretty good."
From his speech, Down says, Mr. President was quite interested in the up-coming "political fray" in fact, he was quite eager to say the least. However, Mr. Barack Obama is quite displeased with the current "GOP candidates". Down writes:
"Seeming eager to jump back into the political fray with the 2016 Republican field, Obama referred to the current batch of GOP candidates, which currently numbers 16, of being full of 'sad' and 'ridiculous' rhetoric".
In the President's words:
"The American people deserve better," Obama proclaimed.
The President expressed his "bold remarks" followed by his criticism of President Uhuru Kenyatta of Kenya, whereby he took to task his Kenyan counterpart "for his country's record on gay rights". In Mr. Obama's view:
"And when a government gets in a habit of people treating people differently those habits can spread."
References:
http://www.marketwatch.com/story/freewheeling-obama-claims-he-could-win-a-third-term-2015-07-28?mod=MW_story_trending&Link=obnetwork