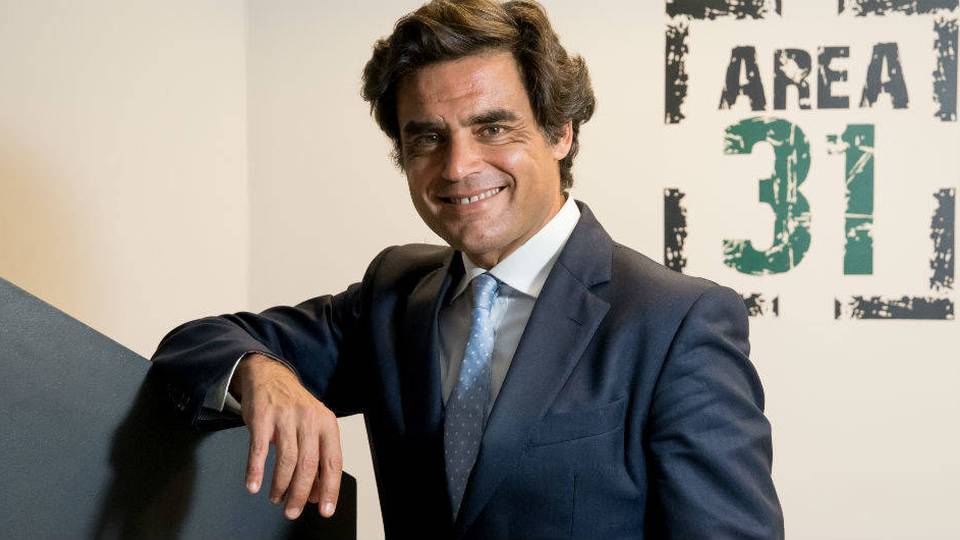 Juan José Güemes, President of the IE Center for Entrepreneurship & Innovation and Vice President Finance at IE University
What are the key figures of IE Tower?
It will be the second highest educational building in Europe and the third in the world, standing 180 meters tall, with 35 floors covering 50,000 square meters, and 7,000 square meters of green space.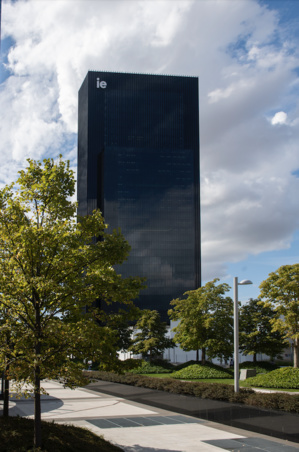 IE Tower in Madrid, Spain
What are the values and ambitions behind IE University's architectural choices?
IE University has two other campuses in Segovia and Madrid. The first, located in the
former monastery of Santa Cruz la Real,
began construction more than 800 years ago. Our campus on Calle María de Molina in Madrid comprises several emblematic buildings, including late 19th century mansions and the first buildings to use the curtain wall technique in the Spanish capital. None of these buildings were originally designed for higher education and we had to make a thorough - albeit constrained - adaptation to serve our mission. The new IE Tower campus is the first of our facilities that has been designed and built to suit our values and pedagogical methods. It is designed to promote the encounter and exchange of ideas among members of an extraordinarily diverse community (students and faculty of 140 nationalities), entrepreneurship and innovation, and the intensive use of technology. It is also a facility designed with the highest sustainability criteria, in line with IE University's commitment.
IE Tower
has the shape of an inverted T. The base is a 'skyscraper'. The base is a 'skyscraper on its side' that houses the sport facilities, a large auditorium, cafeteria and labs, among other essential parts of the facility's program. The first two parts of the vertical part, twenty floors, house the academic program. The upper part - narrower in plan than those dedicated to the academic program - provides the necessary office space for the staff. Finally, two intermediate floors, which transition between the academic program and the office space, serve as a meeting point for the faculty and between the faculty and the business and professional community.
How will the IE Tower transform the learning experience of the students? How will it change the way professors give their classes and interact with faculty from the other schools?
IE Tower is designed so that students and faculty can comfortably spend long days in the Tower. Students learn not only from the professors and not only inside the classrooms but also outside of them. That is why IE Tower devotes so much space to promoting meetings, the exchange of ideas, research, experimentation, collaborative work and extracurricular activities.
Moreover, all classrooms - not only in IE Tower but in all IE University facilities - are equipped with the necessary technology to enable high quality immersive hybrid sessions. Managing the COVID19 crisis led us to develop the concept of liquid education. Today we are overcoming the pandemic, but everything we have learned in recent months - which has been a lot, even for a university like IE University that has been combining face-to-face and online sessions for more than twenty years - has opened up a new world of possibilities. Today it is unthinkable that a student who cannot be in class in person - because of an emergency or because he or she is doing an internship - should have to lose the pace of the course.
140 different nationalities will meet in September in the new campus. Besides IE Tower, what makes IE University so attractive internationally?
IE University promotes an international and sophisticated environment, where respect, empathy, kindness and tolerance are the norm. It is the culture of the institution. We embrace diversity because it extraordinarily enriches everything we do. It helps us see the world with a wide angle and that is reflected in entrepreneurship and innovation, in the ability of students to build a broad global network, and in the careers of IE alumni.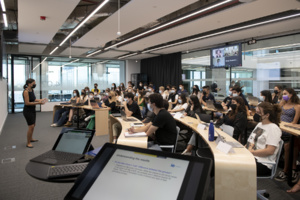 IE Tower is not only described as a "nextgen" campus. What does it involve exactly?
Universities usually have to choose between an urban campus, connected to the business and professional world where research is applied and where students develop their professional careers, which means giving up green spaces, sports facilities, large auditoriums or labs; or having those spaces but on a campus far faway rom the real world. IE Tower puts us in the exceptional situation of not having to give up anything: it is located in one of the most dynamic business areas in Europe but at the same time has ample green spaces, sports facilities, laboratories and other spaces unthinkable in most campuses located in the center of cities.
One of the postulates that underlies your educational philosophy at IE University is that we live in a "liquid world", calling for "liquid solutions" and delivering "liquid learning". What does it mean, and how does IE University take up the challenge?
IE University has been delivering programs that combine face-to-face with online periods and synchronous and asynchronous sessions for twenty years. This allowed us to continue operations without missing a single session during the lockdown. And the crisis caused by the pandemic led us to accelerate the review of technologies and methodologies. The
liquid learnig methodology
allows us to design each session of each program with the perfect balance of presence and technology to maximize its pedagogical effectiveness and the quality of the experience; and to experiment with flexibility and ubiquity in education in a way that we could not have imagined just a few years ago.
IE University supports entrepreneurs who can participate in the Venture Labs, a start-up accelerator which focuses on helping teams develop their ideas and find their market niche. What synergies or opportunities for entrepreneurs are expected from your urban and human ecosystem?
The new campus is in the most dynamic business area of Madrid, where many of the leading companies in their industries in Spain and beyond are based; and as in other European cities, there is an increasingly dense and vibrant entrepreneurial ecosystem. Our relationship with these companies is very close and there is ongoing collaboration in areas such as applied research, talent development, career opportunities for IE University alumni and also access to resources for startups.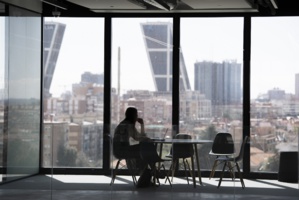 Students will also take care of their body, mind and soul at the IE Tower. How will you encourage students to regain a sense of the "slow hours" in a fast-paced world? What does it bring, intellectually and socially speaking?
Three years ago we created the
IE Center for Health, Well-Being and Happiness
to help the entire IE community successfully meet the challenges of the fast-paced world we live in. It is our belief that higher education must provide important life skills for individuals not only to survive, but to thrive amidst these challenges. That is why we teach knowledge and skills that enable students to know how to live well -healthfully, thoughtfully, happily- and therefore to improve their performance for life as well.