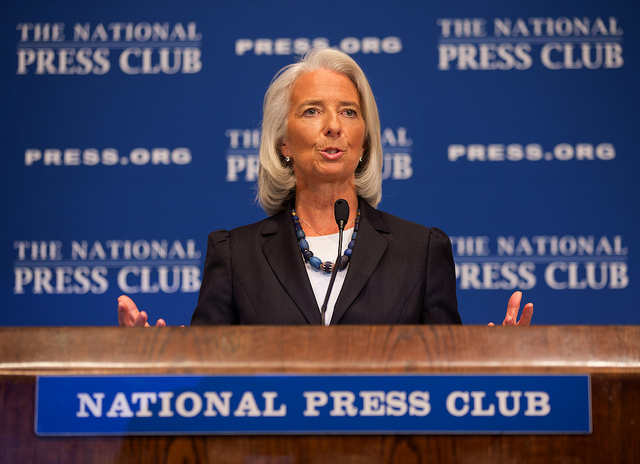 The International Monetary Fund (IMF) has approved a specific bailout package of $17.5 billion for Ukraine in a step to bolster one of the world's worst under-performing assets.

In a swift measure, IMF has nodded to release $10 billion into Ukraine's troubled economy over the next year while the rest of the money will be released within a timeline of four years. Besides this bailout the country can also expect $7.5 billion in loans from other international organizations and a $15.4 billion stash in debt relief that Ukrainian officials hope to negotiate with their bondholders.

The benchmark bonds of the war-torn country maturing in 2023 fell in value from 95 cents on the dollar last July to a low of 39.5 cents on February 23. They have now climbed up to 48 cents in the back of the IMF bailout package news.

According to Elbek Muslimov, an emerging market trader at Citigroup Inc., "There has been a lot of action in the market today, with investors repositioning on the news of the IMF deal." He expects the bonds to go higher into the 50s to the dollar.

This IMF fund is looked upon as a boost for bond investors who are faced with losses due to the civil war in the country. The largest private holder of debt in Ukraine is the U.S. asset manager Franklin Templeton Investments, which has about $185 billion in assets under management. The company has about $4 billion worth of the Ukrainian bonds at the end of December. This number also includes about $1.8 billion-worth in the flagship Global Bond Fund run by Michael Hasenstab.

Still some investors are finding the scenario till risky to plunge in. Paul McNamara, investment director of the emerging markets team at GAM Hoding AG said: "There is an extreme degree of uncertainty over how much [of the country] will be under Kiev's control."

There are other group of analysts who look at the bonds as still cheap despite the rally. Aaron Grehan, an emerging market fund manager at Aviva Investors said, "Ukraine is extremely binary. There is no way of assessing what Ukraine will look like as a country or an economy. [But] the risk reward is such that you want some involvement."

The hryvnia had already gone from a level of 33 against the dollar in late February to 22 currently, according to FactSet, after the central bank moved to shore up the currency.

Meanwhile Ukraine's finance minister will be holding an investor presentation on 13 March to outline the features of the new bailout package. This meeting will further reflect how the investor sentiments are getting skewed in the upcoming days.