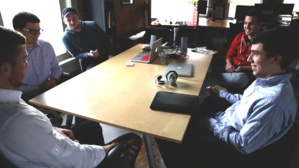 Snap Inc., a social media firm, has probably the "highest profile tech IPO planned" for the year of 2017, whereby withholding the potential of raising billions all together.
IPO advisers and Investment bankers alike think that little known "software firms" that target "business customers" such "Apttus, Tintri and Okta" could play an important role in "thawing a long-frozen IPO market". Talking about these firms, the UBS Group AG's America's "equity capital" market's head, Justin Smolkin, says that it is a "leading indicator" of the wider demand from the investors for "market debuts". In his words:
"They tend to be viewed as cream of the crop, and where investors make the most money".
These kind of software firms usually earn by offering their services for sale for which one needs to subscribe, resulting in the creation of "reliable revenue streams". Through this process, the aim is to get into contracts that last "several years", which allows the investors to avail "more predictable returns" as oppose to various "Internet or consumer-oriented companies" that are dependent on advertisements or "high volumes of individual transactions".
The aforementioned software firms feature a spectrum of "back-of-the-house services" be it "automating business processes, security, accounting" or "training software and expense management". Individually seen, these companies are valued at a moderate level, while the strength of the sector "accounts for most of the tech IPO market", reported Will Connolly, the Head of "technology equity capital markets" in the U.S. at Goldman Sachs Group Inc. in his words:
"Most of the technology IPO activity is actually not big, large-cap companies going public. It's small and midcap growth companies going public that are innovators in their own markets and are helping drive the next generation of technology."
As per Reuters' identification over a dozen such "U.S. enterprise software companies" have prepared for the year of 2017's IPO which includes "Avalara, MuleSoft, ForeScout Technologies Inc, AppDynamics and Yext". The data of Thompson Reuters indicate that only "six software companies went public" in the year of 2016.
While, the Chief Executive of "Silicon Valley Bank", Greg Becker's prediction say that as many as thirty to forty five such technology companies backed by capital could "go public" in the current year, whereas in the previous year the respective number was only fifteen.
Moreover, there are speculations that these companies' aim would be to leave behind other tech giants like "Airbnb Inc and Uber Technologies Inc". In case, the said move by the enterprise software firms succeeds, it would prove beneficial to "early-stage investors" involved in "key funding". Anthony Kontoleon, from Credit Suisse Group AG, said:
"It will be important for everyone that these deals work well in the market to create positive momentum for the year".
On the other hand, if the technology IPOs fail to gather speed in the current year, it would test some of the "venture capital fund managers" for keeping their investors satisfied. Moreover, the startups that succeeded in attracting and retaining "talented employees" by offering them the promising future of a "lucrative IPO" could also take a beating.
The small number of companies that went public near the end of 2016 demonstrated "strong stock performances", while "Twilio Inc (TWLO.N), Coupa Software Inc (COUP.O), Nutanix Inc (NTNX.O) and Blackline Inc" are into trading in prices which are above their offer, reports Reuters. As a result, the private peers are gaining confidence to give in to the "pent-up demand for such IPOs".
Furthermore, Reuters informs that:
"Enterprise software companies recognize that an IPO could be a major marketing event that gives them clout with potential customers that are publicly traded companies themselves - and conduct extensive due diligence before choosing a software vendor".
In the words of Coupa Software's Chief Executive, Rob Bernshteyn:
"The greatest benefit of an IPO is the transparency it creates. It comes a much greater sense of legitimacy".
While, Nutanix' Chief Executive, Dheeraj Pandey, added:
"Customers want to know you're going to be around for a long time".
However, similar firms who are for going public "realize" that capturing investors before the "market beduts" is a challenging task. While Reuters adds:
"With names that trip up a spell checker and arcane business-model descriptions, they need to educate investors on their niche strategies and to start those efforts long before the typical two-week investor road shows that precede IPOs".
For example, Apttus' expertise on helping "salespeople give a price quote quickly when trying to close a complicated deal that includes different products", required to be briefed to "potential IPO investors", while the C.E.O, Kirk Krappe, said:
"Those investor meetings, and our relationship with Morgan Stanley (MS.N), have helped put us on the map".
References:
http://www.reuters.com/