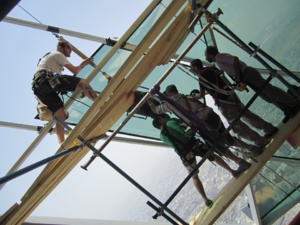 On 31
st
of July 2016, Indian government informed that a minister will visit Saudi Arabia in attempt to "bring back workers" who lost their jobs. The foreign minister of India also informed that over ten thousand Indians stuck in Saudi Arabia were subject to a "food crisis".
The government of Saudi Arabia was forced to become stringent on their spending habits following the low rates of oil. Likewise, the construction firms were put under pressure as they mostly "rely on state contracts". Given the said situation some of the companies in the Saudi construction sector are finding it difficult to pay the wage of foreign workers, whereby the latter were asked to leave the job. As a result, many such workers who have lost their jobs were left with "no money for food" or for the tickets to return home.
However, the government of Saudi assured that is there were complaints against any company failing to pay the promised wages, were taken to investigations which resulted in "fines and other penalties" in case any were found guilty.
On the other hand, the foreign minister of India, Sushma Swaraj, made an appeal for an approximate three million Indians who were living in Saudi Arabia and require help for alleviating "the economic hardship". In a tweet note, Sushma Swaraj stated:
"Large number of Indians have lost their jobs in Saudi Arabia and Kuwait. The employers have not paid wages, closed down their factories".
"The number of Indian workers facing food crisis in Saudi Arabia is over ten thousand."
Meanwhile, the Saudi Arabian labour ministry remained unavailable for any related comment. Reuters reported that:
"One of India's two junior foreign ministers, V.K. Singh, will travel to Saudi Arabia in the coming week "to try and bring back the workers who have been laid off", a Foreign Ministry spokesman said".
Travel date has not been mentioned yet, while how many would receive the Indian government's help was also not mentioned. Swaraj informed that M.J. Akbar, a junior foreign minister, was appointed to look into the matter with the "two Gulf countries", while the Indian government is said to be keeping hourly track of the situation. Swaraj's tweet note read further:
"While situation in Kuwait is manageable, matters are much worse in Saudi Arabia".
At the same time, the Consulate General of India, based in Jeddah made a distribution of "15,475 kg of food over the past three days". Describing the foreign workers' situation in Saudi Arabia, Reuters writes:
"Hundreds of foreign workers at construction firm Saudi Oger staged a public protest in Jeddah at the weekend to demand seven months of unpaid wages, Saudi Arabia's Arab News reported. They were dispersed by police after disrupting traffic."
References:
http://www.reuters.com/