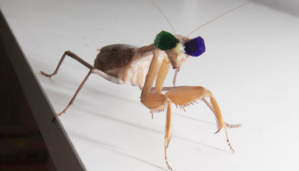 Scientists have proven now that insects have "3D vision". In an attempt to confirm the same a team of scientists from "Newcastle University" fitted "tiny 3D glasses" of "old school" on praying mantises. Following the said process, they made use of "a specially-designed insect cinema" and the 3D glasses had either blue or red lenses.
The experiments' period lasted for two long years, while the glasses on the praying mantises were attached with "beeswax" whereby helping the scientists to have a better understanding of insects' sight.
Eventually, the scientists arrived at the conclusion that the mantis use "3D vision" for hunting, while their findings also gave a "visual perception in robots". Interestingly, in majority of the cases, 3D vision experiments are conducted on the vertebrates. However, this particular research on the mantises includes the invertebrates.
Interestingly, the research established the fact that it was possible to trick the mantises into believing an "image of a bug was real". Likewise, the subject mantis would pounce on the image of the bug.
However, if the same image was shown through 2D vision, the mantis simply ignored it, whereby the research head Jenny Read who is a "professor of vision science", commented:
"Despite their minute brains, mantises are sophisticated visual hunters which can capture prey with terrifying efficiency.
"We can learn a lot by studying how they perceive the world.
"Better understanding of their simpler processing systems helps us understand how 3D vision evolved, and could lead to possible new algorithms for 3D depth perception in computers."
In the initial stages of this research, the mantises were tested with the "widely-used contemporary 3D technology" that humans use for viewing 3D contents. The said technology uses a "circular polarisation" for separating the "two eyes' images". However, the contemporary technology failed with the insects as the proximity to the screen rendered the glasses incapable of correctly "separate the two eyes' images".
While, the Newcastle University's sensory biologist, Dr Vivek Nityananda says:
"When this system failed we looked at the old-style 3D glasses with red and blue lenses. Since red light is poorly visible to mantises, we used green and blue glasses and an LED monitor with unusually narrow output in the green and blue wavelength.
"We definitively demonstrated 3D vision or stereopsis in mantises and also showed that this technique can be effectively used to deliver virtual 3D stimuli to insects."
The next stage of the research will be carried on by the scientists in an attempt to discover the process whereby "human vision evolved" whereby developing "new ways of adding 3D technology to computers and robots".
References:
http://www.telegraph.co.uk/