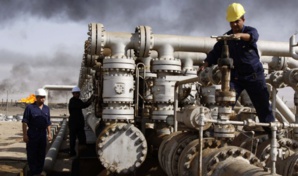 With the Organization of the Petroleum Exporting Countries (OPEC) soon to meet, Iraq has gone ahead and created the first pre-summit ruckus. On an unspoken level Iraq is always given a certain free reign on its oil productions by OPEC due to the country's constant political turmoil. Iraq currently exports 2.9 to 3.1 bpd of oil.
The tumult arose when a
Bloomberg report
released on 26th May claimed that Iraq could possibly generate and ship an extra quarter of a million barrel, over the regular quota from June onwards. As this news hit the market, both Brent and WTI- oil benchmarks went for a free fall for three sessions, until the US Energy Information Administration's latest inventories report pointed at a 2.8 million barrel drop and provided some resistive support to the falling prices as the weekend neared.
An already unstable market's reaction to this Iraqi news wasn't really a surprising turn of events. A look at the basic reality in regards to Iraq's recent condition is an eye opener. An analytical look towards the last
12 months
, the time just before
ISIS meaningfully infiltrated the country
creating political tumult, exports by Iraq have been confusing to the bone. The toppling of
Prime Minister Nouri Al-Maliki
did indeed create a ripple on Iraq's exporting industry. ISIS' advance had no effect as most of Iraq's oil reserves are at its southern zones where ISIS hasn't been able to make any mark. While taking all this consideration, if Iraq genuinely wants to produce an uptick in its production numbers, then infrastructure has to be mended and short term investments in the least, multiplied by four to achieve impactful numbers; not to mention the turmoil filled political atmosphere needs relief.
Iraq's own ministry has set June targets at 3.1 million bpd; at the same time expecting the numbers to cross over 3.1 million bpd is just conjecture at this point. Iraq does have the capability of pumping up its export numbers with a fact backed 140 billion barrels crude oil reserve, but what is the tricky part is that as of now Iraq doesn't have the conditions required to increase its production within set deadlines. Shipping brokers for Iraq are even doubtful about the country meeting its own set 3.1 million bpd quota.
The problem lies with certain analysts calling conjecture on Iraq's exports as sure means of them 'flooding the market'. Each month there is a separate country in focus that has been bogged down by political strife. Truth is there might be justification to expect more crude from both Iran and Iraq but a flooding is just pure conjecture at this point of time.
Expecting surplus oil from Iran and Iraq would essentially mean that both those countries are ready to harm their own prices as surplus usually does. Considering an international outlook, an excess of 1.1 to 1.3 million bpd of oil is added as surplus to the market everyday but this has more to do with Kuwait, United Arab Emirates and Saudi Arabia with numbers
930,000 bpd in excess OPEC production
.
Brent prices have been struggling to maintain at
$50-75 a barrel oil price range
. At this moment, without any significant geopolitical change there is no escaping this price range. Conjecture on Iraq and Iran oil exports are quite different from projections from both their individual governments. Changes in supply pattern especially by the U.S will affect this market but not right now like some overzealous industry watchers would want it but over a long time like things like this usually take.
References:
http://www.forbes.com/sites/gauravsharma/2015/05/30/oil-markets-and-the-kerfuffle-about-additional-iraqi-barrels/
http://www.forbes.com/sites/gauravsharma/2015/05/30/oil-markets-and-the-kerfuffle-about-additional-iraqi-barrels/2/