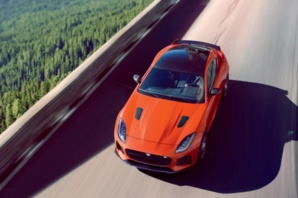 Jaguar's all new F-Type SVR is set to be launched before the world, whereby the product will be debuting globally during the "Geneva Motor Show" and will continue to feature throughout the summer sale of 2016.
The F-Type SVR is first of its kind created by Jaguar, which is capable of hitting "200mph". The design of F-Type SVR exploits the full potential of the 'two-seat aluminium sports car' yet retains the everyday usability angle too.
The said SVR takes into account its dynamics, driver's involvement along with its performance and translate all of them to a "new level" altogether which is delivered with comfort. Moreover, the inherent dual characters of all Jaguar cars are retained even with this one. In fact, it is more powerful, that moves faster and feels lighter at the same time.
The Managing Director for the Jaguar Land Rover Special Operations, John Edwards commented:
"The new F-Type SVR is the first series production Jaguar to be developed by Special Vehicle Operations and benefits from everything we know about precision engineering, performance and design.
"The result is a 200mph, all-weather supercar that you can drive every day – we even made a convertible version so that enthusiasts can revel in the sound from the new titanium exhaust system."
References:
http://www.europe.tata.com/